How to Keep Your Hot Tub Running in the Winter
When the snow hits, and the temperatures drop, hot tubs in Toronto provide the perfect outdoor escape that allows you to enjoy the beauty of the winter while in the comforting, warm embrace of a hot tub. Regular care and hot tub maintenance are essential to ensure you get the most out of your tub all season and year. For hot tub service and hot tub sales, contact Seaway Pools & Hot Tubs, your trusted hot tub team in Southern Ontario.
To learn more about how to keep your hot tub running effectively throughout the winter, read on.
Prepare Your Tub for Winter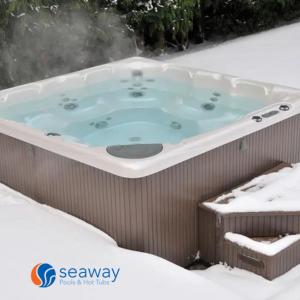 Before the winter, experts recommend first draining and filling your hot tub for many reasons. To ensure you get everything you need for this process, you can shop for Drain and Fill kits and other hot tub supplies online or in-store at Seaway Pools & Hot Tub. Draining your hot tub allows you to thoroughly clean any dirt that has accumulated over the past year, and it also gives you an opportunity to identify and replace worn-out parts.
Draining and refilling your hot tub allows you to adjust the water chemistry to ensure the water is balanced and safe for use. This is particularly important during the winter months, as colder temperatures can cause the water chemistry to shift, leading to imbalances that can harm both the hot tub and those using it.
Maintain Your Hot Tub Throughout the Winter
Like the warmer season, it's important to stay on top of your water chemistry during the winter. It's essential to keep debris out of your hot tub by regularly checking for leaves and other organic materials. Investing in hot tub accessories like high-quality hot tub covers can also help protect your hot tub from falling debris, and it will also help to keep animals out. For the best hot tub supplies, shop hot tub sales online and in-store at Seaway Pools & Hot Tubs. We stock a full range of hot tub supplies, including test strips, conditioners, sanitizers, balancers, and more.
Check On Your Hot Tub Equipment
Your hot tub is powered by a few essential parts, including your hot tub jets, heaters, pumps, filters, and plumbing. As temperatures drop during the winter, it's important to stay vigilant by inspecting these vital parts and scheduling maintenance when needed. As your hot tub works to pump warm water through the jets, ice can expand, causing cracks or damage in pipes. Our selection of Beachcomber hot tubs available in Toronto and throughout the Greater Toronto Area is designed to perform in the winter with advanced insulation. However, if you need replacement hot tub parts, shop conveniently and quickly with the help of the Seaway Pools & Hot Tubs team.
Get Your Hot Tub Winter-Ready with Seaway Pools & Hot Tubs
If you want to indulge in your hot tub all winter long, shop for Beachcomber hot tubs on sale at Seaway Pools & Hot Tubs. We have everything you need to maximize your winter hot tub experience, from water treatments and replacement hot tub parts to aromatherapy, thermometers, and other accessories.