How to Keep Debris Out of Your Pool
With grass, leaves, and dirt surrounding your backyard, it's hard to avoid debris getting into your backyard swimming pool. After the pool opening in Toronto, dirt and branches are the last thing you want to see in your pool when getting ready to take a quick, refreshing dip. While they're a nuisance, stocking up with the right tools at Seaway Pools & Hot Tubs, a local pool supply store in the Toronto area will keep debris to a minimum and streamline maintenance.
For hassle-free cleaning and an always ready swimming pool, leave professional swimming pool maintenance to the Seaway Pools & Hot Tubs team. From pool opening in Toronto to closing and everything in between, we're here.
Here's a quick list of tips you can use to minimize debris in your pool this season.
Clean Your Pool Often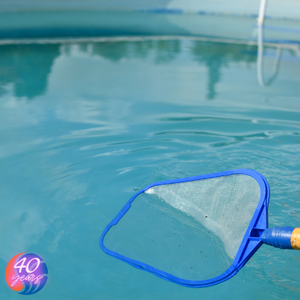 While this may seem obvious, it's imperative to keep up with cleaning your pool to keep debris and other outdoor matter at a minimum. By using a skimmer or vacuum regularly, you'll be able to keep your pool clean and pristine all summer long. Additionally, to ensure that water flows, don't forget to clean and empty your skimmer basket at least once a week. Staying on top of skimming your pool will be the most effective way of keeping water sparkling for your pool opening in Toronto. If you don't have a skimmer net and want the best one for your pool and cleaning goals, check out Seaway Pools & Hot Tubs, your local pool supply store for skimmer nets.
Trim Plants and Surrounding Trees
Although lush plants and foliage are always welcome in the summer, especially when surrounding your pool, they could be the source of a significant amount of debris in your swimming pool in Toronto. Leaves and flower petals will quickly make their way into your swimming pool — if you have a lot of leaves or blossoms around your pool, consider trimming them back to reduce the amount that falls into the water.
Invest in a Pool Cover
A well-fitting, high-quality pool cover is an excellent way to keep debris out of your pool. While debris may fall into your pool while it is uncovered, nothing will fall into the water while the cover is on. Not only will it keep dirt and debris out, but a premium pool cover will keep the water warm and relaxing.
Professional Swimming Pool Maintenance
Constant pool maintenance is a significant amount of work, and you may not have time for it. If keeping your pool clean and fresh all summer long is on your list of priorities, consider hiring a professional for weekly maintenance visits. This way, you can guarantee that your pool is thoroughly cleaned and don't have to worry about any upkeep. At Seaway Pools & Hot Tubs, our professional, experienced technicians can come to your pool on a weekly or bi-weekly basis to keep your pool free of any plants or debris.
Shop Pool Supplies at Seaway Pools & Hot Tubs
If you'd like to keep up with cleaning your pool debris this summer, having the right tools is essential. At Seaway Pools & Hot Tubs, we have all the supplies you need for a sparkling clean swimming pool. Skimmers can catch all the small pieces that float around your pool, and when you aren't using your pool, use a well-fitting pool cover to keep leaves, blossoms, and branches away from your pool.