How to Install your Pool Safety Cover
When it comes time to close your swimming pool for the season, a high-grade and durable pool safety cover is essential for maintaining performance and quality. Before closing your pool, it's crucial to schedule pool cleaning services to prepare for the winter months ahead. Winterizing your pool can be challenging, and sometimes professional help is needed. At Seaway Pools & Hot Tubs, we offer premium pool winterizing equipment and a team of experienced professionals who can tackle the process.
Continue reading to learn how to install your safety cover to avoid damage to your pool.
Schedule Pool Cleaning Services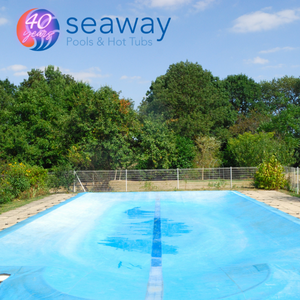 The first thing you'll want to do is schedule pool cleaning services to prepare for cover installation. If you don't clean or close your pool properly, it can easily cause damage like algae growth, frozen plumbing, cracked tiles, and more. To ensure your pool is ready for the spring, proper cleaning and safety cover installation are required. At Seaway Pools & Hot Tubs, we offer exceptional pool cleaning services, regardless of shape or size.
Measure & Choose a Pool Safety Cover
To find the perfect size cover, you must measure your pool for accuracy. Measure the width and length and order a pool cover with the exact sizing or slightly larger. Next, you must decide what type of safety cover you prefer - a mesh or solid material. Mesh pool safety covers are lighter, easier to install, and less of a task to remove. The mesh keeps leaves and large debris out while allowing melting snow and rainwater to pass through the cover. The solid cover prevents minuscule particles and sunlight from getting in, keeping the pool water much cleaner. Solid safety covers relieve many homeowners with kids or animals since they can be walked over, whereas mesh covers cannot. Visit Seaway Pools & Hot Tubs' online shop for top-quality pool safety covers and equipment.
What You'll Need
If you're determined to install a safety cover as a DIY project, there are a few things you'll need before starting:
Pool safety cover kit - including insert screws, strap adjustment buckets and springs, anchors, and installation rod
A heavy-duty rotary hammer drill & an extension cord
Chalk for helpful markings
Hammer for deck anchors or small pieces of wood
A few friends to help assist
A couple hours of free-time
Pool Safety Cover Installation
When installing your own safety cover, there are several steps to install it correctly. After measuring, install the springs onto the strap, threading the strap through the buckle. Then, determine anchor points for the two anchors at each corner and drill holes for each - approximately 4-6 inches behind the strap. Using your tamping tool and hammer, set the anchor into the drilled hole. After all the corner anchors are installed, attach them to the springs using the installation rod, keeping an eye on the seams to ensure they're centred. Lastly, install the remaining anchors and adjust the tension as needed - working from one end to the other. Since safety covers come in many sizes, shapes, and materials, each installation process is different and requires expertise. If you find it challenging and would rather spare yourself the time and hassle, contact Seaway Pools & Hot Tubs to install your safety cover for the best results.
Shop Pool Supplies from Seaway Pools & Hot Tubs
At Seaway Pools & Tubs, our team is filled with highly experienced pool contractors skilled in openings/closings, maintenance, cleanings, liner installation, safety cover installation, and much more. With decades of experience, we know exactly what each customer needs for their pool to perform its best.