How to Get the Perfect Modern Swimming Pool Design
Designing the perfect, modern swimming pool for your backyard is exciting, but there's a lot to consider, especially when you're just starting the process. To curate the ideal aesthetic of your backyard, you'll have to consider various factors and elements before pool construction begins. You can customize your swimming pool to create the ultimate modern oasis from shape and design to features and accessories.
When envisioning how to design your swimming pool, the experts at Seaway Pools & Hot Tubs are here to help. We have a multitude of designs and accessories for you to choose from, and our swimming pool builders will help you achieve your vision.
If you want to transform your backyard swimming pool into a modern landscaping dream, here are some tips and inspiration for you to share with your swimming pool builders.
Swimming Pool Shape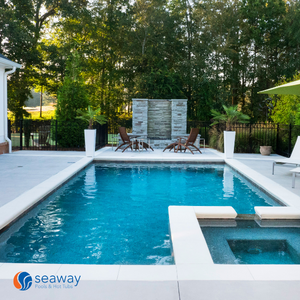 One of the first decisions you'll make with your swimming pool builders before pool construction begins is what shape you want your pool to be. The contour of a backyard swimming pool in Toronto will quickly dictate how contemporary it appears. For the most modern and luxurious-shaped swimming pool, opt for straight edges and clean lines. Now more than ever, small swimming pools in Toronto are popular. They fit neatly in properties of all sizes.
Seaway Pools & Hot Tubs are the go-to plunge pool builders and modern swimming pool builders in Southern Ontario for pools, big or small.
Construction & Design Elements
Other design ideas to consider before starting pool construction include custom semi-inground swimming pools. Semi-inground swimming pools are also an excellent way to optimize space and make your swimming pool the star of your backyard. Much like our plunge pools, our semi-inground pools are customizable and are made to suit your vision. If you'd like to make your semi-inground swimming pool even more captivating, try adding a retaining wall around it. A retaining wall will add a contemporary flair to your pool and is designed to ensure your swimming pool is the spotlight of your home.
In-Pool Water Features
Level up your modern backyard swimming pool with sleek rain curtains and specialty waterfalls built right into your swimming pool. Or, try an in-ground spa that makes switching from swimming to lounging seamless. Beyond the sleek designs of your cascading water features, you can embed captivating led lighting around your pool. This functions as a great safety feature and doubles as a fun and contemporary twist on traditional swimming pool design.
More Backyard and Swimming Pool Themes
You don't have to go modern. At Seaway Pools & Hot Tubs, we can build you a custom swimming pool in Toronto or elsewhere in the Greater Toronto Area that is tailored to your personal vision, go floral, go modern, or somewhere in between. Our team of experienced swimming pool builders will help you achieve the backyard swimming pool and landscaping experience of your dreams.
Custom Pool Building at Seaway Pools & Hot Tubs
Our trusted team of experts at Seaway Pools & Hot Tubs understands that you have a specific vision in mind for your modern pool and backyard. Not only do we know, but we want to envision it with you and help you achieve it. If you need inspiration for designing your perfect modern swimming pool, visit one of our showrooms in Newmarket or Markham today.
Ready to start planning your dream backyard from pool to accessories?