How to Get Ready for Pool Season 2023
When the snow starts to fall, thinking ahead to summer is a great way to escape the dark skies and cold weather. By checking out Seaway Pools & Hot Tubs' pool supplies online and design galleries, you can easily visualize what our team of expert pool builders can customize for you during the 2023 season. To put your dreams into action, contact Seaway Pools & Hot Tubs' pool builders to book your pool construction while spots are still available. Once your spot is booked, you can shop for all the best accessories and pool supplies online. When the 2023 season rolls around, you can make the most of it right from the start.
Here's how you can get your pool ready for the 2023 season.
Plan Your Pool Construction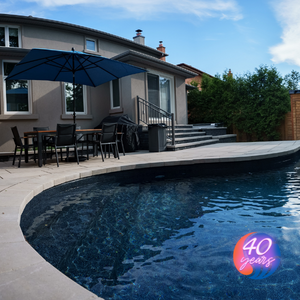 Installing your swimming pool is a long process. It begins with determining which pool you'd like, such as above-ground, semi in-ground or inground backyard swimming pools. Once you choose your type of pool, it's time to choose the design and shape. While there are some choices with above-ground and semi-in ground pools, you can choose from various designs and shapes for your inground pool. If you choose an inground pool, you must be mindful of zoning bylaws and the location of your pool. However, if you opt for an above-ground or semi-inground pool, the preparation is relatively minimal, and you can put it wherever you like. Once you've committed to the type and shape of your pool, our pool builders at Seaway Pools & Hot Tubs will begin the design process.
Shop Pool Maintenance
To fully prepare for your pool season, you must have cleaning supplies. At Seaway Pools & Hot Tubs, we have endless pool supplies to help you maintain your pool and keep it sparkling clean throughout the 2023 season. A great way to get started is by purchasing a cleaning kit, so you're able to get everything you need in one swift purchase. Aside from buying cleaning supplies beforehand, it's also wise to invest in a well-fitting pool cover before the season begins. This way, you can keep debris out immediately and ensure your pool stays pristine.
Fun Pool Accessories
Aside from the necessary pool supplies, like covers and cleaners, you also need fun pool accessories. Check out our online store to see what we have to make your pool the best place to party and relax. We have relaxing loungers, floatation devices, noodles, and even accessories for water games, like diving sticks, rings, and frisbees. If you'd like your pool to be the epicenter for fitness, we also offer AquaFitness products, like resistance tools and water weights.
Upgrade Your Patio
Aside from making your pool luxurious, you also must plan your patio and backyard. At Seaway Pools & Hot Tubs, we have everything you need to upgrade your patio and backyard into a relaxing oasis. From firepits and lighting to outdoor furniture and gazebos, your backyard and pool will be the only place you want to be in 2023.
Work with Southern Ontario's Expert Pool Builders
Building your pool for 2023 should be left to the trusted experts at Seaway Pools & Hot Tubs. We offer landscaping design, pool construction, pool opening services, and bi-weekly maintenance services to ensure your swimming pool is perfect from start to finish.