How to Extend Backyard Season With Toronto Hot Tub Sales
When summer starts to fade into Fall, many people still want to spend as much time as possible soaking up the sun, fresh air, and aesthetics of their backyard. With the swimming pool closed, a hot tub in Toronto is the best way to get more days out of your backyard. At Seaway Pools & Hot Tubs, we stock a range of hot tubs on sale. Choose from plug-and-play models to luxury Beachcomber tubs to breathe new life into your outdoor space this Fall.
Here's how to extend your backyard season with Seaway Pools & Hot Tubs.
Shop Hot Tub Sales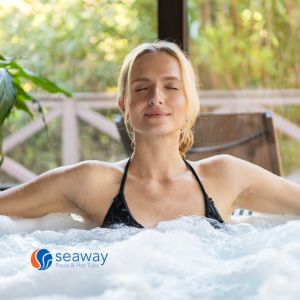 As an authorized Beachcomber dealer and leading hot tub store in Southern Ontario, Seaway Pools & Hot Tubs always has a sweet deal on hot tubs. When you shop our selection of Spartan, Fantom, and Beachcomber tubs, with the guidance of our tub experts, you'll find your dream addition with features that elevate your experience. To learn about our hot tub sales, visit one of our two GTA showrooms, where you can see our collection of tubs yourself.
Year Round Hot Tub Use
While swimming pools need to be closed once it gets cold out, hot tubs in Toronto and Southern Ontario can be used all year round, even as the temperature outdoors starts to drop. The heat of a powerful hot tub can melt the cold away and enable relaxation, giving you more use out of your backyard. To keep your hot tub running smoothly, schedule hot tub maintenance and tune-up services with your trusted hot tub team at Seaway Pools & Hot Tubs. Easily shop maintenance parts or book your service online.
Going Beyond the Backyard Hot Tub
While hot tubs are a great addition for those looking to spend more time outdoors, there are many other upgrades you can make with Seaway Pools & Hot Tubs to get your backyard cozy for the Fall. For ambiance and warmth, our team recommends opting for gas heaters and firepits. Fire features act as a centrepiece for patios and backyards, giving you and your loved ones a central point to gather away from the cold. The beautiful light of a high-quality fire pit also adds colour, vibrancy, and visibility to your backyard, which elevates nighttime hot tub use.
To further enhance your backyard hot tub experience, choose hot tubs with beautiful LED lights, cascading waterfalls, and music. These features add to the outdoor experience, turning every hot tub session into the perfect experience.
Embrace the Benefits of a Hot Tub this Fall
Hot tubs in Toronto and throughout Southern Ontario offer a number of benefits that are perfect for the cooler weather. From the physiological benefits of pain relief, improved sleep, and muscle relaxation to the mental advantages for stress relief, better socialization, and anxiety/depression relief, having access to your own hot tub can positively impact every part of your life.
Shop Hot Tub Sales at Seaway Pools & Hot Tubs
Embrace your backyard all year long with luxury hot tubs available in a wide price range as well as hot tub services and supplies all at Seaway Pools & Hot Tubs. Visit us in Newmarket or Markham to find your dream hot tub.