How to Enhance Your Hot Tub Experience with Aromatherapy
Hot tubs in Toronto are perfect for unwinding after a busy day; the massaging jets paired with hot, bubbling water help de-stress and soothe your muscles after a long week. Although your Beachcomber hot tub is already the epitome of relaxation, you can elevate your experience with aromatherapy specially designed for hot tubs in Toronto. By incorporating aromatherapy into your daily soak, you're able to enjoy the scents and reap a multitude of benefits. At Seaway Pools & Hot Tubs, we'll help you find the perfect aromatherapy product for your hot tub in Toronto.
To learn about hot tub aromatherapy and how it boosts your hot tub experience, continue reading.
What is Aromatherapy?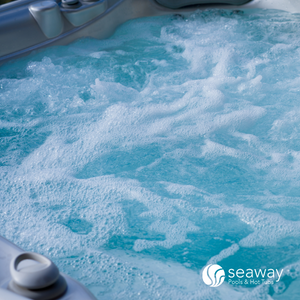 Aromatherapy is a natural therapeutic treatment that utilizes plant extracts and essential oils that help aid in relaxation, sleep, and other mental and physical benefits. While aromatherapy is typically used in our homes or spa treatments, it's also popular and incredibly beneficial to use in your Beachcomber hot tub. The power of aromatherapy, paired with the benefits of your hot tub in Toronto, creates an immersive and tranquil environment.
Benefits of Aromatherapy for Hot Tubs
There's a long list of benefits when it comes to using aromatherapy in your Beachcomber hot tub. The most popular benefits include inducing relaxation, reducing stress, enhancing sleep, and overall, improving mental wellness. Different scents and essential oils have different benefits, and whichever type of aromatherapy you choose is dependent on your mood and how you want to feel after your long, relaxing soak.
For instance, peppermint helps with energy levels, mental alertness and aids in digestion. Whereas eucalyptus assists with migraines, muscle aches, and helps with respiratory issues. If you're yearning to unplug and immerse yourself in your hot tub, then lavender or jasmine aromatherapy is for you; both help improve relaxation, reduce stress, and enhance sleep.
How to Relax in Your Hot Tub with Aromatherapy
Before you dip into your hot tub, add your hot tub bombs and oils ahead of your planned soak. When everything is fully incorporated, hop in, put your phone on silent and unplug from the world briefly. Let the essential oils and jets work their magic. If you want to maximize the ambience in your backyard, maybe light some candles around your hot tub or install some soft lighting around your backyard. And when you get out of your hot tub, have your robe and slippers ready, so you're able to stay warm when you go back inside.
Shopping Hot Tub Supplies
If you're interested in incorporating aromatherapy into your daily hot tub routine, you must have aromatherapy specifically designed for hot tubs. At Seaway Pools & Hot Tubs, we have a wide variety of products for you to choose from, all of which have different benefits and will suit your preferences and needs. We have a wide range of spa bombs, epsom salts, and aromatherapy crystals, all of which are made from aloe vera to help keep your skin soft, made of different scents, ranging from eucalyptus, mint, coconut, and lavender.
Whichever aromatherapy product you choose, your hot tub experience will be even more relaxing and immersive.
Contact a hot tub specialist today to learn more. Or visit us in Newmarket or Markham!