How to Conserve Water with a Plunge Pools
Many people approach their pool company in Toronto looking for an option to access all the fun and excitement of a swimming pool while conserving water. Whether the intention is to be more sustainable, save water, or reduce monthly swimming pool costs, a plunge pool is a great starting point for pool lovers looking to reduce their water usage. The small swimming pool requires less volume than the traditional backyard pool enabling homeowners to significantly cut back on water consumption.
At Seaway Pools & Hot Tubs, we build custom vinyl plunge pools tailored to your individual needs.
Read on for more ways you can save water with your swimming pool.
Cover Your Swimming Pool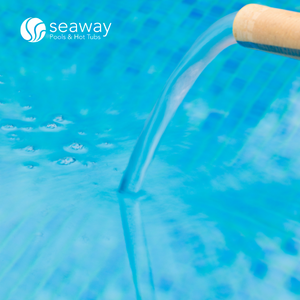 Swimming pools lose a significant amount of water to evaporation regularly. Covering your pool with a solar cover is an effective way to stop water from escaping, especially during the summer's hottest days. Solar covers reflect heat and light away to stop swimming pool water from heating up and evaporating. You can find solar covers from your local pool company in Toronto or shop online at Seaway Pools & Hot Tubs.
Don't Overfill Your Swimming Pool
For many pool owners across the city overfilling the backyard swimming pool is just a bad habit of forgetting to shut the hose off. But if your water bill has increased or you're concerned about water waste, it's a good idea to keep a watchful eye on your pool as it fills. This doesn't necessarily mean sitting there tediously watching the water pour in, you can check the average time it takes, and check in on how full your swimming pool is before time elapses.
Seal or Repair Swimming Pool Leaks
When there is a leak in your pool or your swimming pool plumbing it can go undetected for a while. Leaks can dispel water secretly without you even knowing. Some common causes of leaks are structural damage, plumbing, or mechanical issues. The best way to get ahead of them and stop water loss is with regular pool maintenance. Talk to a local pool company in Toronto to schedule a pool inspection if you notice your water bill rising. If you need replacement parts for your swimming pool, contact a specialist at Seaway Pools & Hot Tubs or visit our online pool supply store.
Minimize Splashing
Does the family spend a lot of time splashing? Are cannonballs the preferred way of entering your backyard pool? If the answer is yes, then it's likely some of your water loss is the result of splashing. However, splashing is typically a symptom of fun that does not result in a significant water loss, so if you're managing all the other factors that contribute to water waste, you should be able to splash around freely.
Choosing a Plunge Pool for Your Backyard
If you're concerned about more sustainable pool options, talk to your swimming pool contractors and builders about installing a custom plunge pool. These small swimming pools allow swimming owners with less spacious backyards to access the luxury of a swimming pool, without using as much water, energy, or resources as the traditional swimming pool. Modern and sleek, small swimming pools enhance the atmosphere of any home.
If you think a backyard plunge pool is a good choice for your home, work with the team at Seaway Pools & Hot Tubs to build your dream backyard.