How to Choose the Perfect Hot Tub for 2023
After years of debating, you finally decide to purchase your very own hot tub for the new year. While you know that you want a hot tub to have a luxurious soak in, there's so much to choose from as you decide between styles, brands, customizations, and accessories. To ensure you get the hot tub of your dreams, visit Seaway Pools & Hot Tubs for hot tub sales in Toronto. Seaway Pools & Hot Tubs is your trusted hot tub store in Toronto. We have a variety of hot tubs in stock and available for pre-order, including plug-and-play tubs and luxury limited edition Beachcomber hot tubs.
Kickstart 2023 with your dream hot tub with these easy-to-follow tips from Seaway Pools & Hot Tubs.
Choosing the Size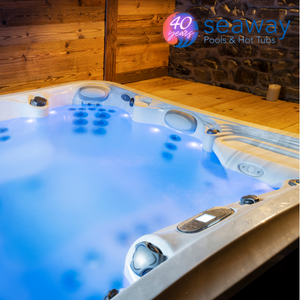 The size of your hot tub will determine how much seating is available and how well your tub will fit in your backyard. Hot Tubs come in a variety of sizes, so you can find the option that best suits your space. With Boxing Day hot tub sales in Toronto and throughout Southern Ontario, you can go bigger at better prices. To choose the right size for your yard, start by measuring the area in which you plan to install your hot tub.
If it's just going to be one or two people primarily using the hot tub, you may want to opt for a smaller model that seats up to four. However, if you have a big family, or plan on having hot tub parties, a larger model that seats eight would be best. At Seaway Pools & Hot Tubs, your local hot tub store in Toronto, we have many models that can easily fit up to eight people. Throughout December 2022, all of our Spartan and Fantom hot tubs are on sale for our Boxing Month Event.
Determine Your Budget
In addition to determining the size of your hot tub, figuring out how much you'd like to spend is an integral part of choosing your hot tub. If you want an inground hot tub or a large model, your budget should fit that. However, if your budget is on the lower end, there are still plenty of options, like a smaller model or a plug-and-play hot tub. Once you solidify your budget, visit Seaway Pools & Hot Tubs for hot tub sales in Toronto for plenty of options where you can save thousands of dollars on Beachcomber, Fantom, and Spartan hot tubs in Southern Ontario.
Customizations and Accessories
Once you've determined the size and budget for your hot tub, it's time for the fun part: customization and accessories. There are many ways to customize your hot tub, such as adding a cooling seat, LED lights, music, or a water feature. Adding accessories, like aromatherapy for hot tubs, are also an excellent way to make your hot tub even more enjoyable. Visit Seaway Pools & Hot Tubs online store to see what we have to offer for luxurious hot tub accessories.
Build, Quality, and Warranty
The build and quality of your hot tub are integral to ensuring long-term satisfaction. Beachcomber hot tubs are an energy-efficient, high-quality model that lasts for years, even during cold Canadian winters. At Seaway Pools & Hot Tubs, we guarantee our installations, ensuring your happiness and satisfaction with our hot tubs and services.
Shop Hot Tub Sales at Seaway Pools & Hot Tubs
Find your dream hot tub today at Seaway Pools & Hot Tubs. With a range of models in stock and available for pre-order, you can spend 2023 soaking and saving.