How to Choose the Best Plunge Pool Builder
Plunge pools make for a beautiful addition to any backyard landscaping. When designing your dream backyard with pool companies in Toronto, think of your plunge pool as the final piece of the puzzle, bringing everything together. A small swimming pool is a perfect way to relax after a busy day, enjoy your weekend afternoons with your family, and swim to your heart's content.
To get the most out of your backyard swimming pool in Southern Ontario, you need to work with the best pool companies in Toronto. Here's your simple guide to the find the best swimming pool builder for your home.
Where To Find A Plunge Pool Builder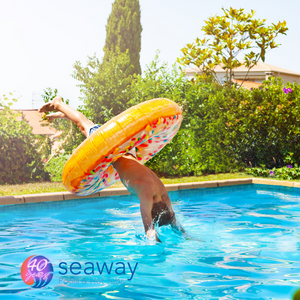 Finding a reliable pool builder is a tall task, especially if you have a specific vision for your plunge pool. If you're unsure where to find a pool builder, use HomeStars to your advantage. HomeStars is a vast network of reviews for pool companies in Toronto that'll help you choose the best plunge pool builder for your backyard transformation. At Seaway Pools & Hot Tubs we specialize in custom backyard swimming pools - big or small.
How to Choose the Best Pool Company in Toronto
Figuring out which pool builder to choose is overwhelming. However, there are numerous factors to keep in mind when looking at pool companies in Toronto. References, quotes, specializations, accreditations, and warranties are all essential. Building your plunge pool will be seamless once you find a pool builder that ticks all of your boxes.
Plunge Pool Specialization
Not all pools are made equally, so if you envision a plunge pool in your backyard, you need to make sure that the pool company you're looking at specializes in plunge pools. Seaway Pools & Hot Tubs are the original plunge pool masters, and our team offers a wide variety of plunge pool designs to ensure that you get the plunge pool of your dreams.
Quotes
To ensure accuracy and your complete satisfaction, getting a quote for your plunge pool is imperative. A general price online or an over-the-phone quote isn't going to be precise and could result in unpleasant surprises in the cost of your new pool. Reputable pool companies in Toronto will provide you with a quote after the site has been surveyed and the details have been sorted and confirmed.
References
Reviews and references from the experiences of others are critical when choosing a pool builder in Toronto. Even though the pool company you're interested in is suitable for your needs, positive customer feedback is necessary. Aside from reviews from HomeStars, make sure your pool builder provides customer references. This way, you're able to speak directly to the customers and their experience.
Reputation
If the pool company you're researching has a good reputation and accreditation, like HomeStars or the Better Business Bureau, you're in good hands. The Better Business Bureau is a fantastic way to research verified and trusted small businesses in your region, and HomeStars has all the right tools you need to hire the right company. Seaway Pools & Hot Tubs is a locally trusted and award-winning pool company, and our team will help you design the perfect plunge pool for your backyard.
When building your plunge pool this season, you must have a good feeling about your swimming pool builders. At Seaway Pools & Hot Tubs, we'll work hard to ensure that you end up with the luxurious plunge pool of your dreams.