How Pool Installation Contributes to Healthier Living
For many, healthy living can have various definitions. Some may think of self-care days, others think of socializing with friends. What if you put both to experience the best of both worlds with a pool. As a homeowner, the investment in pool installation is an investment in a healthier lifestyle. Not only does a pool have physical and mental benefits, but social benefits as well. Overall, having a pool can promote Vitamin D exposure, something Canadians lack due to minimal access to the sun. Enjoy the warm weather and spend your days outside by the pool.
Contact a pool contractor at Seaway Pools & Hot Tubs to get started.
Learn about how installing a pool can improve healthy living.
Physical Benefits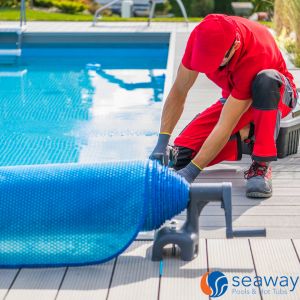 Swimming is a low-impact exercise that can help improve fitness through cardiovascular health, muscle strength, and flexibility. Implementing pool use into your everyday routine can positively affect your body over time. This is an excellent opportunity to improve your heart health and muscles, as it is low impact yet still works the muscles simultaneously.
Water aerobics is a popular activity if you want to tone your body, lose weight, and simply stay in shape. The resistance of the water creates weight, increasing heart rate, yet still easy on the joints. This is why you may see elderly individuals participating in water aerobics, as it's an effective way to work out without high impact. A pool installation can get you feeling better in your body and can reduce joint and muscle pain.
Mental Benefits
Mental health is a serious matter that must not be forgotten about. Often, many people can
experience burnout and fatigue that can be related to muscle pain as well. This is common in athletes. This is why they tend to participate in forms of hydrotherapy.
Fibromyalgia is a chronic condition that can cause pain and tenderness throughout the body, as well as fatigue and insomnia. Many resort to swimming to relieve stress mentally and physically. Physical health can sometimes play a significant role in mental health; if you aren't feeling your best, you may not think your best. Call for a pool contractor today to get you feeling better quickly.
Social Benefits
A backyard pool provides friends and family a place to hang out for the summer. Make your home the go-to place for parties and gatherings. The kids have a place to splash around, while adults can hang out in or around the pool. Additionally to the pool, explore designing your backyard to get a whole backyard experience. Whether participating in water activities or supervising the kids, create a space to make unforgettable memories and strengthen relationships.
Healthier Living with Seaway Pools & Hot Tubs
For whatever benefits you seek, turn to Seaway Pools & Hot Tubs to make it happen. Through pool installation services and regular maintenance and cleaning services, we strive for customer satisfaction for over 40 years. Visit our online store for pool accessories and more, or visit our showrooms in Newmarket and Markham. Talk to one of our professionals today to start on your pool installation journey and be ready for next summer.