How a Hot Tub Can Contribute to a Healthier Lifestyle
Hot tubs present numerous benefits for those who use them regularly. We often find ourselves using a hot tub when we visit a resort or go on vacation but then seldomly use them again as part of our regular routine. Using hot tubs regularly can help contribute to a healthier lifestyle. It only takes 15 minutes a day in a hot tub to begin enjoying the physical and mental benefits. Many busy professionals are embracing the regular use of hot tubs in Toronto and Southern Ontario with Seaway Pools & Hot Tubs. We stock a vast selection of hot tub sales at our Markham & Newmarket showrooms that can revamp your at-home wellness routine. To learn more about the benefits of soaking in your own hot tub in Toronto, read on.
Hot Tub Health Benefits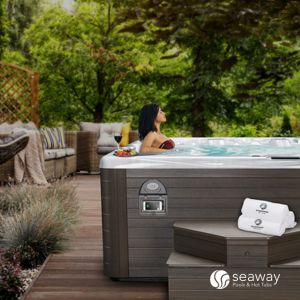 A hot tub is a relaxing tool a homeowner can use to improve their overall health. Regular use of hot tubs improves cardiovascular health and can help lower blood pressure. The high heat in the hot tubs causes blood vessels to dilate, which helps to reduce the pressure in blood vessels. Dilating blood vessels also
helps to send oxygen and nutrients to muscles.
Hydrotherapy
Hot tubs in Toronto are being used for hydrotherapy. Hot tubs help to alleviate swelling and achy muscles. Hydrotherapy has been credited with helping with the symptoms of arthritis. Another benefit of using hot tubs for hydrotherapy is increasing blood circulation within the body. Increasing your blood circulation will help relieve joint stiffness and help to manage pain in the body.
The water jets also pulsate on sore muscles, which further helps to reduce inflammation and alleviate pain. It's almost like receiving a massage. Imagine receiving a massage every day. The amount of pain relief and tension release would be immensely beneficial over a long period of time.
Relieve Stress
Hot water releases endorphins and helps people's mood and overall disposition. Another benefit is that hot tubs have been shown to help people improve their sleep. Sitting in hot water is a pleasant, relaxing experience that helps to create calm and balance. Hot tubs are an excellent tool to help with relaxation, relieve stress, and contribute to health and wellness.
Fortunately, hot tubs can be used year-round, so it's easier to get regular use and enjoy all of these health benefits. Hot tubs can be an especially welcomed treat during Toronto's long winters. Imagine having your own personal oasis or luxury retreat in your backyard to use whenever you want.
Shop Hot Tub Sales at Seaway Pools & Hot Tubs
Seaway Pools & Tubs have been serving the Toronto area for over 40 years with a range of hot tubs for sale. We can help you choose the best Beachcomber Hot Tub or plug and play hot tub for you. We have a variety of hot tubs to suit various budgets and come with different features for you to choose from, including limited edition Beachcomber hot tubs and other plug and play models. Don't hesitate to get in touch with us now to make your backyard oasis a reality.
Rest assured that we stand by our quality and can help inform you of the best product for your budget and needs.
Contact Seaway Pools & Tubs to discover pricing and ask about our hot tub sales.