How Do Hot Tubs Improve Mental Well-Being
Hot tubs have long been celebrated for creating a serene and peaceful environment. There is nothing better than soaking in a hot tub after a long day at work or an intense workout session at the gym. With a hot tub in Toronto, you can take the weight off your joints, indulging in soothing jets and bubbles to give your body a break after a laborious or stressful day. But hot tubs can do more than relax the body; powerful, high-quality hot tubs are also linked to mental rejuvenation. If you or someone you love is looking for a way to disconnect from worry and realign, consider visiting Seaway Pools & Hot Tubs. We stock hot tubs and hot tub supplies online and in-store. You can choose from various models and styles that suit your needs.
Learn more about the connection between hot tub use and mental wellness.
A Place of Relaxation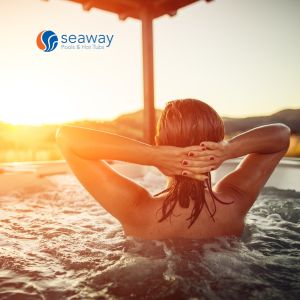 Regardless of age, occupation, or family life, stress can impact the physical and mental wellness of virtually anyone. A hot tub in Toronto serves as an escape from day-to-day problems. The warm water helps to ease tense muscles while the bubbling jets gently massage away physical tension to create a physiological escape. As the body unwinds, the mind naturally follows suit, releasing accumulated stress and fostering a deep sense of tranquillity.
Stress Alleviation
With burnout on the rise, stress is a challenge that profoundly impacts mental wellness. The warm water of a backyard hot tub encourages the release of the body's natural feel-good chemicals, such as endorphins, dopamine, and serotonin, which significantly manage stress and anxiety.
Improve Sleep
One of the most noteworthy advantages of stress reduction is the improvement in sleep quality. Sleep is a common symptom of mental illness and a cause of many issues. By rectifying your sleep schedule, you can alleviate some of the pressure that affects your psyche. More people struggle with managing a healthy sleep schedule as they are exposed to stress with additional factors worsening the issue.
Adequate sleep is imperative for maintaining optimal mental health as it allows the brain to process emotions, consolidate memories, and rejuvenate for the following day. A good night's rest should never be overlooked as it can also improve your immune system, improve your cardiovascular health and many other benefits.
Taking a soak in a hot tub in Toronto prior to bedtime can expedite the process of falling asleep and promote a more restful night's sleep, by regulating the circadian rhythm and giving you time away from troublesome blue light emitting devices. At Seaway Pools & Hot Tubs, you can explore our aromatherapy options, which are additives you can incorporate into your daily soak to facilitate relaxation and sleep.
Elevated Mood and Emotional State
Hydrotherapy in hot tubs can positively influence mood and emotional stability that is otherwise difficult to manage when stressed. When submerged in a hot tub, the buoyancy of the water diminishes the pressure on joints and muscles, effectively alleviating physical discomfort and pain. Consult with one of Ontario's leading hot tub companies, Seaway Pools & Hot Tubs, to select the best hot tub for your needs.
Social Interaction and Forging Connections
Human connections are indispensable for mental well-being, and hot tubs provide a unique setting where individuals can congregate, unwind, and deepen their relationships. Though hot tubs are often perceived as a solitary sanctuary, they can facilitate social interactions and amplify mental well-being through shared experiences. Gathering with friends or loved ones in a hot tub creates an open dialogue and bonding atmosphere. Engaging in conversations and laughter while submerged in warm water can strengthen interpersonal relationships and alleviate sentiments of solitude and isolation.
Whether it's an intimate evening for two or a group of friends revelling in a soak, the social dimension of hot tubs contributes to improved mental health.
Prioritizing Self-Care
Carving out time for self-care is often overlooked, yet it is essential for nurturing mental well-being. Hot tubs afford a dedicated space for self-care, allowing individuals to give precedence to their mental health. Establish a self-care routine that fosters mental and emotional well-being by dedicating regular sessions to unwinding in a backyard hot tub.
Put yourself first and explore your options for a hot tub with Seaway Pools & Hot Tubs. Our team will help you curate a backyard escape that supports a healthy mind and body.