Guide To Throwing a Festive Holiday Hot Tub Party in Toronto
The holidays are quickly approaching, and it's time to celebrate and get festive with holiday parties. If you want your holiday party to be one to remember this year, consider throwing your party centred around your hot tubs in Toronto. During the winter, Spartan, Fantom, IPG Freestyle and Beachcomber hot tubs are all excellent ways to keep your guests warm and entertained. Between festive-themed food, drinks, and music, the possibilities are endless for hosting a hot tub holiday party this season. Visit Seaway Pools & Hot Tubs to see our online hot tub store for various hot tub party supplies and equipment.
Here's a guide on throwing a festive holiday party in your backyard hot tub in Toronto.
Make Sure Your Hot Tub is Clean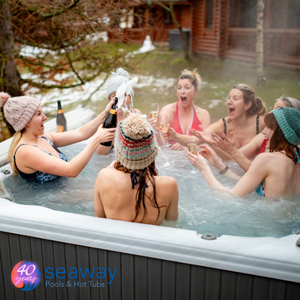 If you're hosting guests in your hot tub, you want it to be sparkling clean for them. The day before your guests arrive, ensure that your water is clean, the chemicals are balanced, and your filters are clean and free of debris. If you need to add chemicals to balance the water, make sure you do that the day before your party so it can adjust accordingly. Aside from the water, clean your hot tub shell, so it's shining the day of your party. When cleaning your hot tub shell, only use products meant for hot tubs. If you use standard household cleaning solutions, it may affect the water. To guarantee that the products you're using for your hot tub are safe, visit Seaway Pools & Hot Tubs for all your Beachcomber hot tub supplies.
Decorate
Just because your party is in your hot tub in Toronto doesn't mean you shouldn't decorate. Any good holiday party needs decoration to make it extra festive and fun. If you have outdoor lights hanging around your backyard, consider adding some snowflakes or bows as well. If you don't have any outdoor lighting that fits the occasion, visit Seaway Pools & Hot Tubs for endless outdoor lighting choices.
Festive Food and Drink
Having festive food and drinks is an integral part of any holiday party. Have a charcuterie board, festive cookies, hot cocoa, or apple cider for your guests to enjoy. It's important to note that while champagne or holiday-themed cocktails may be a good idea to liven up the party, alcohol shouldn't be consumed while you or your guests are lounging in your hot tub in Toronto. Doing so may make your guests feel dehydrated and lightheaded, so stick to mocktails or non-alcoholic drinks during their hot tub time.
Music and Entertainment
While you may all enjoy each other's company at your hot tub party, having music and entertainment will make any party memorable. To get in the festive spirit, add some Christmas music or even holiday-themed movies on a projector. To guarantee that everyone in your party can hear the music, connect it to a waterproof speaker. For those outside the hot tub, add some board games or card games to keep things lively.
All You Need from Seaway Pools & Hot Tubs
Whether it be decorations, aromatherapy for hot tubs, outdoor lighting, or cleaning supplies, the Seaway Pools & Hot Tubs team is here to help you prep for your holiday hot tub party.