Guide to Starting Spring with a Swimming Pool
Swimming pools make backyards the perfect place to unwind, exercise, or host gatherings with friends and families. With warm weather around the corner, it's time to consider opening up your pool. Pool opening services from Seaway Pools & Hot Tubs are an efficient way to open your swimming pool this season. If you're interested in a swimming pool this year, look no further than the Seaway Pools & Hot Tubs team. Our trusted and experienced pool builders in Vaughan, Markham, and the surrounding region will create the pool of your dreams.
Continue reading to learn more about the importance of opening your swimming pool the right way this spring.
Cleaning and Maintenance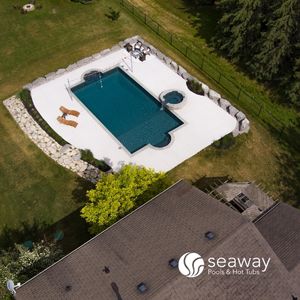 Before anything else, you need to conduct cleaning and maintenance on your swimming pool. Start by cleaning your patio and the side of your pool, and if necessary, trimming hedges to prevent any debris from falling in your pool. Once that's complete, you need to remove your pool cover, drain your pool and clean the inside walls. The inside of your pool likely has calcium buildup, which needs to be removed with the correct cleaner and brush.
Inspection and Repairs
Once you've cleaned your swimming pool, it's in your best interest to thoroughly inspect all the equipment and lining and see if any repairs are necessary. If you're unsure what to look for, reach out to Seaway Pools & Hot Tubs for pool opening services, where we'll inspect your swimming pool and conduct any necessary repairs. Common repairs include leaks, cracks, or damaged tiles.
Upgrades and Improvements
After an inspection, consider any potential upgrades or improvements you want to make to your pool. Enhance your pool entrance by adding new features, like lighting or outdoor heaters. If you want to improve some aspects of your pool, like adding a water feature, visit the pool builders from Seaway Pools & Hot Tubs. Our pool builders in Vaughan and nearby areas will help you customize and upgrade your pool this spring.
Spring Opening Process
Opening your pool is a tedious process. After you've completed any necessary maintenance and improvements, it's time to refill your pool and run the filter. Running your filter for at least 24 hours is critical — this way, you'll be able to see if it works well or if you need to replace it. If your filter is in good shape, you need to test the water for alkalinity levels, chlorine, and calcium hardness. It's essential to correctly balance your swimming pool to make sure your swimming pool water is safe. If there's too little chlorine, bacteria or algae may grow in your pool. Too much chlorine may lead to skin and eye irritation.
Safety Considerations
Installing a ladder or a safety railing is critical when helping people in and out of your pool. Consider adding a fence to ensure that not just anyone enters your pool. When your pool isn't in use, invest in a premium safety cover to prevent any accidents from occurring.
Build Your Dream Swimming Pool
To streamline your pool opening this spring, visit the specialists at Seaway Pools & Hot Tubs. Our team will help you with maintenance, upgrades, improvements, and water balancing.