Guide to Prepping Your Backyard Pool For Late Night Swims
The beauty of having your backyard swimming pool is that you can swim whenever your heart desires. Some like to start their day by swimming laps, some like to cool off in the hot sun, and others like to decompress with a relaxing night time swim. However, since the only thing illuminating your late-night swim is the stars, you need to prepare your pool and outdoor space. Seaway Pools has everything you need from pool opening services and maintenance, to pool supplies. Whatever you need to prep your pool for late-night swims, visit our website for pool supplies online.
Here's your guide to amplifying your backyard pool for those late nights.
Provide Lighting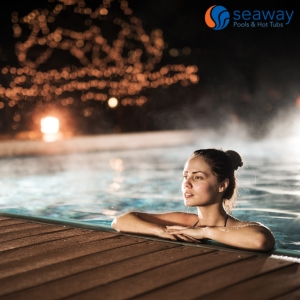 Before you start your pool opening process, you need ample lighting to stay safe, especially if you want to make late-night swims part of your regular routine. Many pool companies provide in-pool LED lighting with a variety of colours to choose from. A general rule of thumb is to have two lights in your pool, but if you want it brighter, feel free to install more. For the outside of your pool, lighting is also essential for safety. When you leave your pool, it'll be dark and slippery, so you need something to illuminate your backyard. For all your lighting needs, shop Seaway Pools & Hot Tubs pool supplies online.
Update Your Pool Heater
During the day, your pool may be warm, but as the sun sets, your pool's temperature will decrease. If you're an avid night swimmer, you should consider investing in a pool heater. This way, swimming in your pool, even at midnight, will be warm and relaxing. To determine which pool heater is best for you, visit Seaway Pools & Hot Tubs online shop for all the necessary pool supplies. Once you're out of the pool, consider getting an outdoor heater for your patio — this will help you warm up after your swim.
Clear Your Poolside Patio
While lighting is key to staying safe during your late-night swims, so is a clean and clear poolside patio. When designing your outdoor space, consider keeping your poolside area free of clutter and furniture. This will prevent you, family members and friends from bumping into things in the dark. If you're looking to redesign your poolside area, shop Seaway Pools & Hot Tubs for all your outdoor living needs.
Post-Swim Pool Maintenance
Once you're finished with your late-night swim, there is some maintenance to take care of. First, you should shock your pool — it's best to shock your pool once the sun sets, anyways. If you shock your pool during the day, the sun may cause the chlorine to dissolve too quickly, far before it has the opportunity to adequately clean the water. After you shock your pool, remember to cover it. This will help retain heat and keep debris out.
Shop Pool Supplies on Seaway Pools & Hot Tubs
Late-night swimming is a great way to unwind and get some exercise in. However, swimming at night does require some maintenance and preparation. For a secure and enjoyable poolside experience, visit Seaway Pools & Hot Tubs online today. Explore our selection or reach out to our knowledgeable team for expert advice and assistance in preparing your pool area for those late-night swims.