Guide to Planning Your 2023 Pool Construction
If you're looking ahead to the warmer months in 2023, then you may be starting to plan a new swimming pool installation. If you're unsure how to begin designing your new pool, look no further than Seaway Pools & Hot Tubs pool builders. Our experts will ensure you get the most out of your swimming pool construction in 2023, from helping with design, the type of pool, customizable features, and enhancing your outdoor living. While narrowing down exactly what you want for your swimming pool, we're here to help you every part of the way.
Here is your guide to 2023 pool construction with Seaway Pool & Hot Tubs.
Choose Your Type of Pool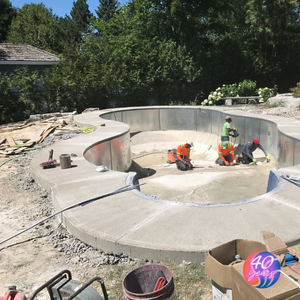 There are many different types of pools available at Seaway Pools & Hot Tubs. Choose from inground, plunge pools, above-ground, or semi-inground swimming pools. While each type of pool has many different benefits, what you choose is ultimately up to you and the size of your backyard. A plunge pool is an excellent option if you have a small backyard. Plunge pools optimize yard space while providing a modern and contemporary feel. If you're interested in a bigger pool, opt for an above-ground or semi-inground swimming pool. If you prefer an inground pool, it's essential to be conscious of space and zoning laws in your backyard.
The Shape of Your Pool & Style
Whichever type of pool you choose, you can always customize the shape and style to your liking. With above-ground and semi-inground pools, you can choose from oval, circle, or rectangle shapes. Plunge pools can be square or rectangular, making them compact and easy to fit in any yard. When considering your 2023 pool construction, consider Seaway Pools & Hot Tub's plunge pools; our pool builders are the industry leaders in beautifully designed plunge pools. Whichever pool you choose, just know that we have many different styles and design options to guarantee you're satisfied.
Entry Types
While some prefer to take the plunge with a ladder, others want to get into the water gradually with a beach. Whichever way you'd like to get into your pool this summer for a quick dip, Seaway Pools & Hot Tubs will help you make the right choice. From tanning benches and beaches to gradual steps, getting into your pool will be your favourite activity.
Custom Features
Add custom features, such as lighting, water, and massaging jets, to add a luxurious touch to your swimming pool. If you really want to make your pool stand out from the rest, consider a retaining wall or trellis for privacy.
The Rest of Your Backyard
While your swimming pool is the centre of attention, a beautifully equipped and furnished backyard is just as important. To bring everything together in your yard, consider investing in outdoor furniture, fire features, and lighting. Even better, you can customize the surrounding area of your pool with concrete or stone to match the aesthetic of your yard.
Visit Seaway Pools & Hot Tubs
If you're unsure where to begin when it comes to designing your swimming pool, trust the swimming pool builders at Seaway Pools & Hot Tubs. We have been trusted pool builders in Southern Ontario for over 40 years. Get your pool installation for 2023 booked, while spots are available.