Guide to Opening Your Pool This Spring
With summer approaching, it's time to open up your swimming pool. But opening your pool this season may seem like a tall task and an endless list of things to do before you can even jump into the water. For your pool opening to go off without a hitch, ensure you have all the necessary supplies. Seaway Pools & Hot Tubs is your one-stop shop for pool supplies online, pool accessories, and pool opening services.
Here's your guide to opening up your swimming pool this season with all the right pool supplies.
Have Pool Supplies on Hand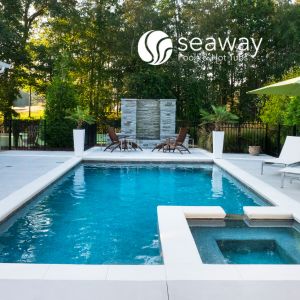 Before you even start the pool opening process, make sure you have all the correct pool supplies on hand. You'll need a skimmer net, pool brush, the proper cleaning agents, test kits, and a vacuum. These will ensure that opening your pool will be a seamless experience and help keep your swimming pool clean all season long. To get everything you need, shop at Seaway Pools & Hot Tubs for pool supplies online.
Clean & Remove Your Pool Cover
Once you have all the proper supplies, it's time to clean your pool cover. If there's any debris on your pool cover, brush it off; if there's excess water, be sure to dry it off. A well-fitting pool cover is crucial to have during the winter and early spring; it keeps the interior of your pool clean from dirt and rain. During the summer, it's equally important. Putting on your pool cover overnight will keep your pool warm and clean.
Check for Potential Repairs
After you've removed your pool cover, it's time to check for repairs. Look to see if there are any rips in the lining of your pool; if so, reach out to Seaway Pools & Hot Tubs, and we can help restore it. Other repairs to look for include seeing if your filter works, if there are cracks in the pool foundation, and ensuring your pump works.
Install New Equipment
Now that all the necessary repairs have been completed, it's time to install the equipment. If you need a new filter, heater, or pump, now is the time to install it. To make the process easier, contact the pros at Seaway Pools & Hot Tubs; our team will help you install all the necessary equipment. Other equipment to consider installing include safety rails, slides, ladders, and diving boards.
Test and Treat the Water
If you've installed all the equipment necessary, the next step is to fill your pool with water and power it up. Let the water circulate for 24 hours, and then test the water. Testing the water will tell you the pH balance, alkalinity and chlorine levels. If your test kits show any levels are off, you can adjust with chemicals and cleaning agents as needed. Before diving into your pool this year, make sure the water is balanced, safe, and clean.
Contact the Pool Service & Maintenance Team
At Seaway Pools & Hot Tubs, opening your pool may seem like a stressful experience. To make it easy, we can help with our pool opening services. From supplies to a leading pool maintenance team you can count on us for everything you need to start your season.