Guide to Cloudy Water Cleanup for Inground Pools
As the swimming season comes to an end, many inground pool owners find themselves facing a common challenge – cloudy water. It's a frustrating issue that can make the thought of pool closing even more daunting. However, with the right knowledge and a little support from expert pool builders and services teams, you can restore the clarity of your inground pool water. At Seaway Pools & Hot Tubs, Ontario's leading pool company, we stock all your must-have pool supplies online and more in-store and online. We also provide reliable pool closing and maintenance services to streamline your water repairs and winterization.
To learn more about how to reverse cloudy water in your swimming pool, read on.
Understanding Cloudy Water in Inground Pools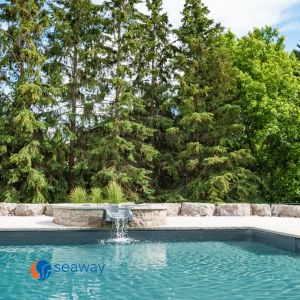 Before diving into the cleanup process, it's essential to understand why your inground pool water turns cloudy in the first place. Cloudiness is often the result of various factors, including imbalanced chemicals and poor water chemistry (low chlorine levels or improper pH balance, can lead to cloudy water, debris and organic contaminants (dirt, algae, and other organic matter can accumulate in your pool over time, causing cloudiness), and filtration issues or insufficient filtration (clogged or ineffective filters can't effectively remove intrusive particles, leading to cloudy water).
Step-by-Step Cleanup Guide for Pool Maintenance
Balance Your Pool Chemistry: Start by testing the water's pH, chlorine, and alkalinity levels. Adjust them as needed to ensure they fall within the recommended ranges. Balanced chemistry is crucial for maintaining clear water.
Shock Your Pool: Use a pool shock treatment to eliminate any contaminants and organic matter that may be causing cloudiness. Follow the manufacturer's instructions for the proper dosage.
Clean and Scrub: Thoroughly clean the walls, floor, and skimmer basket of your backyard swimming pool. Remove any debris or algae growth. A pool brush and a pool vacuum will be your best friends in this process.
Run Your Pool Filter: Operate your pool's filtration system continuously until the water becomes clear. Monitor the filter pressure and backwash it if necessary to maintain optimal flow.
Clarify the Water: Consider using a pool water clarifier to expedite the process. These products help gather tiny particles into larger clusters, making it easier for your filter to capture them.
Regular Testing and Maintenance
Continue to monitor your pool's chemistry and filtration system regularly to prevent future cloudiness. Routine maintenance is key to keeping your inground pool water crystal clear.
What to Expect from Pool Closing Services
As the swimming season draws to a close, it's essential to prepare your inground pool for the winter months. The experts at Seaway Pools & Hot Tubs can take care of this for you, but what should you expect from their pool closing services?
Thorough Inspection: First, we will start by inspecting your pool for any issues that need addressing, such as leaks or equipment problems.
Winterizing Equipment: The Seaway Pools & Hot Tubs specialists will drain the pool's plumbing lines, ensuring that no water remains to freeze and potentially damage pipes or equipment during the winter.
Chemical Balancing Pool: Our team will adjust your pool's chemistry to ensure that it remains stable and safe throughout the off-season.
Safety Cover Installation: They will securely install a high-quality, durable, and lightweight pool cover tailored to your swimming pool to protect your inground pool from debris, leaves, and harsh winter weather.
Equipment Maintenance Pool: companies often offer equipment maintenance services, ensuring that your pool's pumps, filters, and heaters are in good working condition when you open your pool in the spring.
Personalized Guidance: Many pool companies provide advice and recommendations for ongoing pool care and maintenance to help you avoid issues in the future. At Seaway Pools & Hot Tubs our service team will offer insights on the best products and tips to protect your swimming pool.