Four Ideas for an Inground Pool Renovation or Remodel
Today, there are countless possibilities for undertaking an inground pool renovation or remodel. Depending on what you already have, there's something for every taste and for every wallet. While added features and amenities do enhance your swimming pool area, you're also adding real estate value to your home.
The truth is, even small changes and upgrades can make a big difference, and when it's all well planned, an inground pool renovation or remodel can really be transformative. At Seaway Pools & Hot Tubs, we know that renovating or remodeling your pool can be overwhelming, but you can rely on us for success.
At Seaway, we work very closely with our customers – it's a step-by-step process that satisfies all expectations. Over the years, we have designed and built many swimming pools, and have won many industry awards along the way. We certainly understand the investment that our customers are about to make.
Adding New Features and Enhancements
When committing to an inground pool renovation or remodel, many homeowners will opt for new features like waterfalls, water jets, and water slides. Done professionally, these water features can dramatically enrich your whole swimming pool experience.
Creative Waterfalls
Whether you choose a natural-stone waterfall (or a natural-looking artificial stone), waterfall features are the ideal complement to any pool environment. When it comes to a creative inground pool renovation or remodel, waterfalls can be transformational.
Deck Jets & Laminars
Swimming pool fountain bubblers are designed to create "mini-geysers" where installed. These are particularly fun for the younger kids, and look cool in any pool environment. Deck jets and laminars are relatively inexpensive, and primarily designed as an aesthetic upgrade.
Pool Waterslide
A swimming pool waterslide will add a whole new dimension to any pool. Professionally installed, and properly integrated, a waterslide will provide endless hours of fun and games for everyone! For many homeowners, this is the ultimate in pool enhancements.
Adding Technology and Safety Features
These days, the most important pool upgrade is one that enhances energy efficiency. It's an inground pool renovation or remodel that delivers annual savings year after year.
Improving pump efficiency - Homeowners can save on energy usage, and still maintain pool temperature by converting to a variable speed pumps (using 30 - 45% less energy).
Water temperature efficiency - From solar energy, to fence windbreaks, to installing energy-efficient components, there are many ways to lower the cost of pool heating.
Preventative maintenance - Responsible day-to-day operation is key to keeping costs in check – appropriate water temperature – avoiding water waste - energy efficient lights.
Saltwater conversion - Saltwater conversion means no more buying or handling any chemicals. Salt-water pools also require less maintenance, and lower operational cost.
Updated safety features - When it comes to an important inground pool renovation or remodel, nothing outweighs updated safety features and ensuring a safe environment.
Pool fencing - This is one of the more common-sense upgrades, designed to improve pool safety, especially for children. Fences can be aluminum, steel, wood, chain link, or vinyl.
Remodeling the swimming pool deck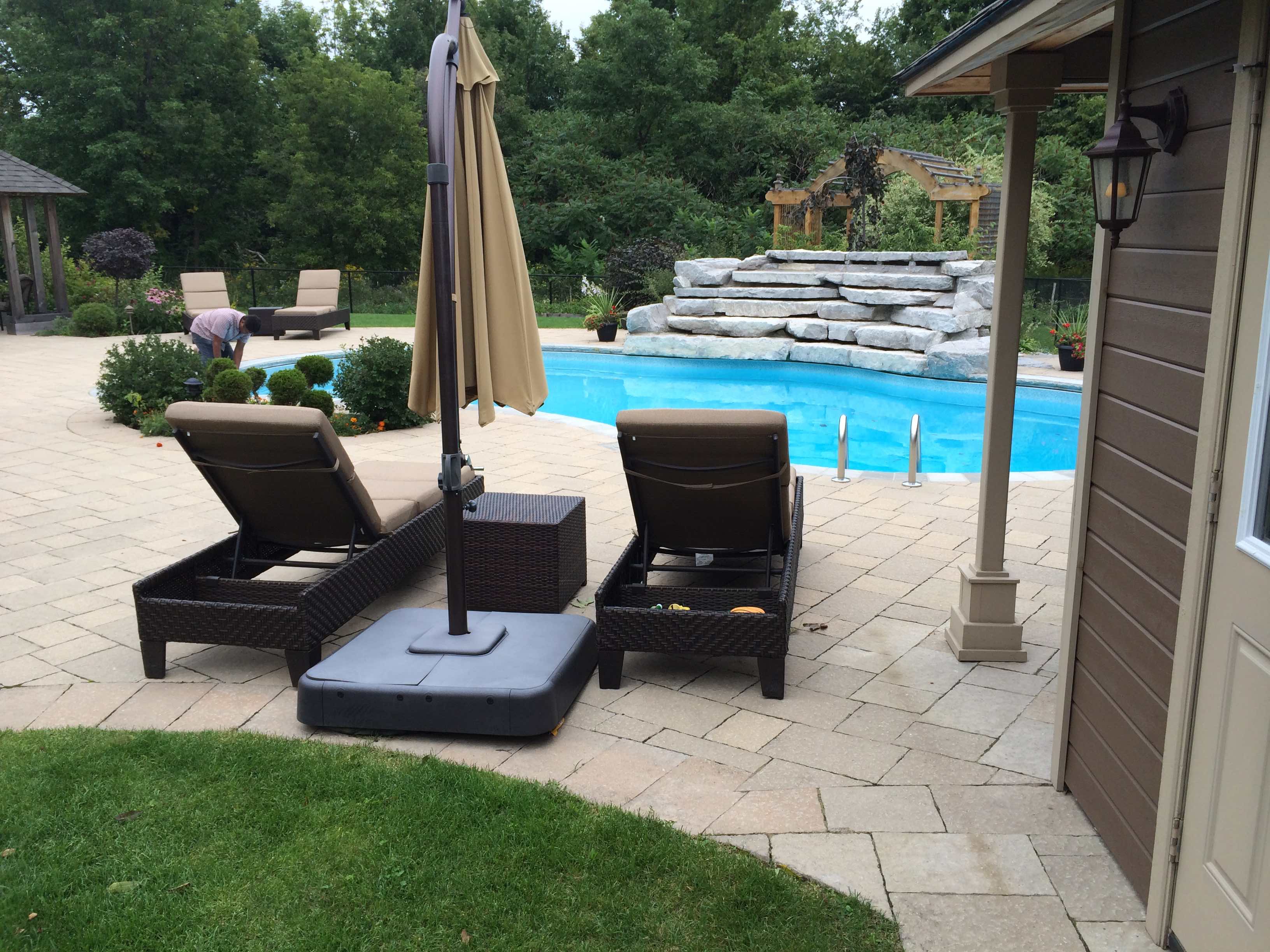 Pool "decking" is essential to every swimming pool landscape. The beauty, of course, is that you can choose the finished look – from sleek and modern, to green and natural. You can choose flagstone, pavers, or textured – all to match your taste and surroundings.
A poured concrete deck is a popular option because it's affordable and flexible. Concrete can be finished many different ways – in colour, in stamping, and even in a stone finish.
Wood decking is easy to build and affordable. However, wood decks do require more regular maintenance season after season. This requires work as well as added costs.
Composite wood decking looks like wood, but without the need for maintenance. The decking is made from plastic-like polymer material, and won't wear out, fade out, or rot.
Stone decking comes in many different sizes, shapes, and colours. The stones provide a natural aesthetic to your landscape, and work well with most any architectural style.
Stone pavers are used in various configurations to create interesting patterns. This type of stone endures pool water very well, and offers a non-slip surface that is long lasting.
Unglazed tiles can add some extra style to a pool landscape. These tiles are available in countless styles and finishes. For best results, a professional install is recommended.
Remodeling existing pool features
Remodeling pool features can turn a simple and ordinary pool into a fabulous backyard experience. What's key is to choose the features that will work best for your backyard.
Replacing your pool liner is essentially a maintenance issue. While a good quality pool liner should last for years, replacing and refitting can deliver a whole new updated look.
For your inground pool renovation or remodel, trust the experts at Seaway
Whatever your dream swimming pool looks like, the experts at Seaway will bring it to life – satisfying your needs, matching your budget, and ensuring years of trouble free performance. Our landscape designers and construction specialists work with you to fulfill your "wish list" and meet your every expectation.
At Seaway Pools & Hot Tubs, we maintain best construction practices, making sure your project is on time and on budget. Find out what Seaway can do for you by calling 905-294-8030 or visiting our website at www.seawaypoolsntubs.com. We've been happily serving York Region and the Greater Toronto Area for well over 37 successful years.