Fix These Common Summer Hot Tub Problems
While summer marks the peak of pool season in Toronto, hot tubs and spas are still an essential part of the outdoor backyard experience across the region, especially when the afternoons become cool evenings sprinkled with chilled air. Keeping an eye out for when you need hot tub repair in Toronto and stocking up on hot tub supplies promptly is the best way to ensure your tub stays in good shape all year long.
Below are some common summer hot tub issues that you should pay attention to as some may require a repair from a professional.
Clogged Filters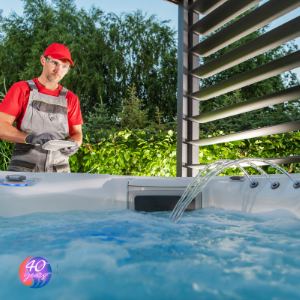 Clogged filters can cause your hot tub not to give off any heat. If your filters are clogged, dirty, or need replacing, the heater will shut off because it needs flowing water to operate correctly. To fix your filters, start by giving them a good cleaning with a hot tub cleanser - even if they appear clean, body oils or small particles could be clogging them. At Seaway Pools & Hot Tubs, we offer many hot tub supplies such as cleansers, sanitizers, balancers, conditions, new filters, and disposals. Before considering a hot tub repair in Toronto, these products can help or stabilize your spa in the meantime. If your problem does not resolve itself, the professionals at Echoing Green can do the repairs you need to enjoy your hot tub this summer.
Overheating
In the summertime, your hot tub or spa can become overheated - but, no need to panic. It's common for hot tubs to go over a few degrees in the hot months. This is often called the "thermal creep," where temperatures keep rising in the hot tub. Water in your hot tub must be circulated and filtered, averaging between 2 to 4 hours daily. During this filtering period, the water absorbs heat given off by the pumps, causing the temperature to go up. Your hot tub may also be overheating due to its location - tubs in sun-exposed areas will be warmer. Seaway Pools & Hot Tubs can help with any hot tub concerns you may have.
Contaminants
Many things can appear in your hot tub, like leaves, debris, skin, insects, sunscreen, etc. It can leave you with cloudy, dirty water without cleaning your hot tub and nourishing it with the proper chemicals needed. If you're worried about the status of your spa in Toronto, look out for strong or strange odour, cloudy water after shocking or sanitizer, if you haven't used your hot tub in weeks/months, or if you've had many people use the spa. One of the most concerning issues regarding uncleansed tubs is the dangers of biofilm which is a backup of bacteria and fungi in your pipes. This causes the risk to not only your tub but for your skin as well. Seaway Pools & Hot Tubs has the hot tub supplies you need to combat these issues, although sometimes they get out of hand and need professional assistance.
Contact the experts at Seaway Pools & Hot Tubs today if you are concerned about the condition of your hot tub or spa.