Features to Look for in Your New Hot Tub in Toronto
With cold weather approaching, you may be looking for a fun and luxurious way to warm up on those chilly winter evenings. When it comes to relaxing and getting cozy, there's no better way than with a backyard hot tub. With many hot tubs on sale at Seaway Pools & Hot Tubs you can browse through our selections of Beachcomber hot tubs and plug-and-play tubs to find the perfect for your space. When looking for a hot tub near you, there are a few features that you can add that'll make your hot tub the place to be this winter.
Here are some exciting features to look for in your new hot tub in Toronto this winter.
Seating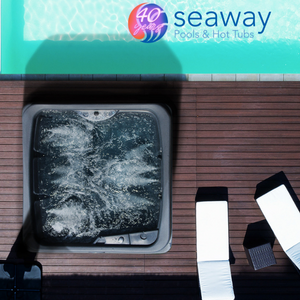 When deciding which hot tub to invest in, you should keep the size and seating in mind. If you plan on having guests or having hot tub parties, you'll want to lean towards bigger hot tubs with more seating. At Seaway Pools & Hot Tubs, we have hot tubs that can easily seat up to eight people. You can also opt for a cooling seat to add versatility to your hot tub seating. Cooling seats are excellent for children's safety and for those who don't want to fully immerse themselves in the water. To check out all the options of hot tubs near you, visit Seaway Pools & Hot Tubs' hot tub sale.
Jets
While the hot water in hot tubs is relaxing, having numerous massaging jets in your hot tub is luxurious. By adding jets to your Beachcomber hot tub, you're able to sink deep into the water and soothe your muscles simultaneously. Adding jets to your hot tub is especially important if you're an athlete; jets provide the perfect pressure to ease stiff muscles and pain. Once your hot tub soak is complete, you're able to have a deep sleep thanks to the soothing and massaging jets. If jets are a priority when purchasing your hot tub, look no further than the 700 series of Beachcomber hot tubs. Each model has over 140 customizable jets to ensure your hot tub is the best experience possible.
LED Colours
Beachcomber hot tubs in Toronto are excellent for two things: unwinding after a long day and hosting hot tub parties. Adding LED colours to your hot tub creates a fun party atmosphere that keeps your hot tub and backyard lit up all night.
Music
If you really want your hot tub to be the life of the party, add some music features. Music, paired with a fun waterfall and bright LED light features, makes your Beachcomber hot tub or inground hot tub the centre of the fun.
Waterfall Features
If you enjoy the sound of running water, adding a waterfall feature is for you. With an inground hot tub from Seaway Pools & Hot Tubs, you can add a waterfall feature, like a rain curtain, to add to the ambiance.
Choose Seaway Pools & Hot Tubs
For all the necessary features to make your hot tub perfect this winter, visit Seaway Pools & Hot Tubs and shop our Black Friday hot tub sale near you.