Factors that Affect the Construction Timeline for Pool Companies
When you finally decide to take the plunge on installing a backyard swimming pool in Toronto, the completion of your swimming pool just doesn't seem to come fast enough once you find your ideal swimming pool builders. Unfortunately, the perfect backyard pool takes some work, and various factors can affect the speed at which pool companies in Toronto can finish construction. To manage your expectations and get the most out of your backyard pool, it helps to understand some of the common challenges faced by swimming pool builders that can slow the speed of installation.
Fear not; your swimming pool will be designed, built, and operational sooner than you realize with reliable and trusted pool companies in Toronto. And you will have a quality backyard swimming pool that will be enjoyed for years to come.
Here are some factors you should be aware of as you await your dream backyard swimming pool.
Designing & Planning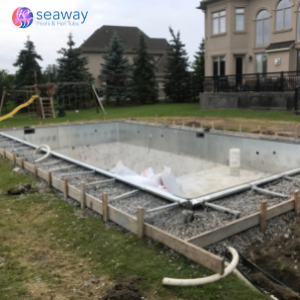 Designing your backyard swimming pool is the first step to building your Toronto pool. If you have a strong idea of what you want, this stage will go faster. But if you're still oscillating between different ideas, the swimming pool builders at Seaway Pools & Hot Tubs are happy to guide you. We're not just like other pool companies in Toronto. We offer backyard landscaping services which can help you get an idea of how to transform your property beyond just the swimming pool. If you're interested in designing and furnishing your backyard, planning can be a little more time-consuming but definitely worth the wait.
Access to Materials
Since 2022, swimming pool builders, as well as other home renovation and construction companies, have had issues with supply chains as a result of the global pandemic and other disruptions. Notoriously, these issues caused frustrating delays for home projects but affected most pool companies in Toronto equally. While some materials may still have some wait, the time is significantly less than it had been. When you choose Seaway Pools & Hot Tubs for your backyard swimming pool, we will be transparent about the status of materials and the progress of construction.
Swimming Pool Size
Naturally, the larger you hope your backyard swimming pool will be, the longer it will take for local swimming pool builders to complete construction. If you're looking for a custom swimming pool that's still luxurious and beautiful, consider a plunge pool in Toronto. These small swimming pools pack the impact of modern design without taking up too much space. Seaway Pools & Hot Tubs are the original plunge pool masters. Our team of builders can build you a beautiful small swimming pool that's ready to use quickly.
Weather Fluctuations
In Southern Ontario and the Greater Toronto Area, fluctuating weather conditions can affect local pool companies' availability. Since the summer is short, requests for custom pool builders quickly stack up. In the warmer season, incessant rain can make for a difficult time when it comes to excavating the backyard. And in the winter or the colder months, the frozen ground makes backyard construction a difficult feat.
Swimming Pool Construction Toronto
Seaway Pools & Hot Tubs is your go-to pool company in Toronto and elsewhere in Southern Ontario for all your swimming pool needs. For all your questions regarding swimming pool design and construction, reach out to a team member today, and we'll get you started.