Essential Pool Supplies to Launch the 2022 Season
You've just had your backyard pool installed, so it's understandable why you'd get excited about purchasing new swimming pool supplies. However, to have a successful pool opening, make sure you have the essential supplies. If you're unsure where to begin, visit one of the top local pool companies in Toronto. Our team of trusted specialists at Seaway Pools & Hot Tubs will help you find everything you need to get swimming pool season off to a perfect start.
This blog will break down what swimming pool supplies you need to have a successful 2022 pool season.
Pool Cover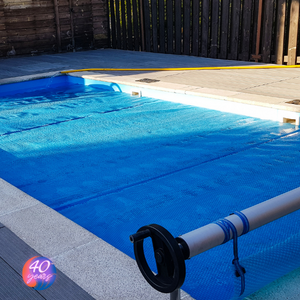 After your backyard swimming pool is complete, you'll need to invest in a premium pool cover - an essential for Toronto pools. A well-fitting cover will keep warmth in and debris out. There are many different types of covers you can purchase from pool companies in Toronto, ranging from solar blankets to automatic covers. A solar blanket is a fantastic way to attract heat from the sun, so your swimming pool is refreshing yet comfortable. An automatic swimming pool cover is convenient and durable. It will also withstand extreme weather for years to come and can open and close with the push of a button.
Vacuum
A vacuum is an efficient and highly effective tool for cleaning large debris and algae that habitually settles at the bottom of your pool. Keep your pool clean and the water glistening by investing in a pool vacuum. The best part about vacuuming your pool is that it doesn't have to be a chore — choose an automatic pool vacuum that'll make cleaning the bottom of your pool effortless this summer.
Skimmer
Skimmers catch all the little pieces floating at the surface your pool, such as bugs, leaves, and dirt. When there's a fair amount of leaves falling from surrounding trees, a skimmer is a fantastic tool to have on hand to keep your pool clean and to protect your water chemistry. Not only is it handy, but it's fast and easy.
Chemicals and Kits
Getting all the correct chemicals and kits is the highest priority when purchasing your swimming pool supplies. You'll need water-balancing chemicals to help balance your pH, alkalinity, and calcium hardness levels. It's well-advised to test your water at least a couple of days before opening your pool and adjusting it. For added efficiency, get a pool opening kit; you can get all the necessary supplies in one swift purchase. Browse the online pool supply store or visit one Seaway Pools & Hot Tubs' two GTA locations to shop easy-to-use testing and balancing essentials.
Chemical Dispenser
Automatic chemical dispensers allow for easy maintenance of your pool. If you're unfamiliar with pool chemicals or you simply do not have the time, automatic chemical dispensers are an excellent tool to have. Automated chemical dispensers dispense the correct quantity of chemicals into your pool at the right time to guarantee that you have the correct chemical levels for your pool.
Cleaning Supplies
Aside from a skimmer or vacuum, there are other essential cleaning supplies to keep your pool looking pristine all summer. A brush with a long handle is a wise investment for a deep clean of your pool. A pool brush will scrub the side of your pool, eliminating unsightly stains that may appear over the season. Additionally, when visiting your local pool supply store, stock up on automatic cleaner filters or bags, ensuring that your pool cleaner will stay in top shape.
This summer, visit Seaway Pools & Hot Tubs for all your swimming pool supplies.