Do Hot Tubs in Toronto Need Cooling Seats?
With Family Day fast approaching in Ontario, you may be tempted to take a dip in your hot tub in Toronto with everyone. Beachcomber hot tubs are a guaranteed good time. Lounging in a hot tub in Toronto is a fun and relaxing way to spend an afternoon and keep the kids safe and close by. If you'd like to increase the functionality of your hot tub, you should look into getting cooling seats and other safety features. With cooling seats, this helps keep your beachcomber hot tub safe for family fun.
To learn more about cooling seats and other safety features you can get from Seaway Pools & Hot Tubs for your hot tub in Toronto, continue reading.
What Are Cooling Seats for Hot Tubs in Toronto?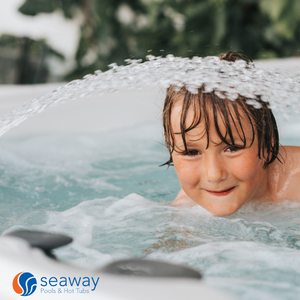 Essentially, cooling seats are raised seats in beachcomber hot tubs that allow you to cool off from the hot tub, or only submerge yourself a little bit. Cooling seats are a great way to transition your body temperature from Toronto's cold winter nights to your hot tub's ideal temperature. If you're concerned about getting too warm while in your hot tub, you'll be able to control your internal temperature more with elevated cooling seats — without having to actually leave your hot tub. Most beachcomber hot tubs are equipped with at least two cooling seats, so if they're necessary, we have you covered at Seaway Pools & Hot Tubs.
How Do Cooling Seats Increase Safety?
Hot tub cooling seats are an excellent addition to your hot tub if you have children that like to enjoy your hot tub as much as you do. Cooling seats are safe, especially for children; they don't have to be entirely under the water. They can slowly adjust to the temperature, and you can have better control over them because they aren't submerged in your hot tub.
Other Types of Hot Tub Seats
While cooling seats are a fantastic addition to your hot tub and a great safety feature, at Seaway Pools & Hot Tubs, we have a large variety of seating for your hot tub in Toronto. You have choices of chaise-style seating, therapeutic corner seating, or bench seating. Depending on the size of your beachcomber hot tub — ranging from four to eight — you could have it all.
How Else Can You Keep Your Hot Tub in Toronto Safe?
Other safety equipment essential for your hot tub includes covers, railings, and steps. A high-quality hot tub cover is necessary for keeping your hot tub safe and clean. With a hot tub cover that fits correctly, it will keep out any debris, so when you get into your hot tub, you won't be faced with leaves, branches, and other things that may land in your hot tub.
To ensure your hot tub is safe, having a railing is critical. Having handrails make getting in and out of your hot tub much more effortless and significantly less risky. With a handrail, in case you slip, you or your children have something to grab onto rather than falling and hurting yourself. Aside from the railing, you should have sturdy steps; steps make getting in and out of your hot tub easy and safe for people of all ages.