Common Hot Tub Problems & How to Fix Them
One of the greatest things about having a hot tub in Toronto is that you're able to use it all year round. From a clear summer night to a chilly winter evening, your hot tub can be in use from season to season. However, as temperatures slowly drop, you may be looking for hot tub sales nearby. Seaway Pools & Hot Tubs has easy-to-install Spartan and Fantom hot tubs on sale — all you have to do is plug and play.
Once you find your perfect hot tub, here are some guidelines on how you can keep your tub running smoothly and avoid the most common hot tub problems.
Water Not Heating Up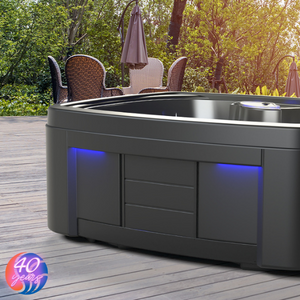 The entire purpose of your hot tub in Toronto is for it to have hot water, as the name implies. However, a common problem hot tubs face is that the water has trouble heating up to the ideal temperature. If your hot tub isn't heating up, it may be because of a problem with your heater, or an issue with the water flow. If the heater is the source of the issue, it may have significant corrosion or damage and may need to be replaced. However, when the root cause is water flow, then routine maintenance, like filter cleaning or replacement, will help solve the issue.
Filters Backing Up
If you are having trouble with your filters, either with them being clogged or causing water to back up, you'll need to have your filters replaced. A filter that quickly gets clogged and backed up is probably covered in mineral scale, oily films, or both. Generally, this is resolved by cleaning your filters. However, after you clean your filters and notice that they're still clogging quickly, you'll need to replace them. For the right filters, visit Seaway Pools & Hot Tubs for supplies and hot tub sales near you.
Cloudy Water
Your hot tub water may become cloudy due to constant usage. If the water looks cloudy, you should get it tested immediately. A test strip will show you the pH, chlorine, and alkaline levels. Once you know what the correct levels should be, adjust accordingly. In the future, to avoid cloudy water, keep maintenance regular and shock the water to keep it clean and safe.
Low Jet Pressure
If your jets have low pressure, it could signify an airlock. This may happen when you drain your hot tub, causing air to get trapped inside the jets and blocking the water flow. To solve this, open all the jets and run them on high for around a minute until you can see air bubbles. If this doesn't do the trick, contact the professionals at Seaway Pools & Hot Tubs for hot tub maintenance services.
Power Won't Turn On
Sometimes, your hot tub will trip circuit breakers and cause it to shut off. While it may appear to be a quick fix — unplugging everything separately to see what's causing the problem — it's best to leave it to a professional.
Shop Hot Tubs & Supplies
When your hot tub needs help, the Seaway Pools & Hot Tubs team can help, from hot tub maintenance to replacement parts and hot tub supplies, you can count on us. If you're searching for the perfect hot tub near you in Toronto or Southern Ontario, shop Seaway Pools & Hot Tubs, hot tub sales and supplies online or in store.