Choose the Perfect Hot Tub in Toronto for Your Lifestyle
Are you looking to add a touch of luxury and elevation to your life? Hot tubs in Toronto are the perfect way to relax all year round. Whether it's just for you or with your loved ones, you want to ensure it fits all your needs to get the most out of it. Seaway Pools & Hot Tubs offers all kinds of hot tubs for you to choose from, with endless combinations of different features. We host many hot tub sales throughout the year, so keep an eye out for those. Located in Newmarket and Markham, visit our showrooms to shop all pool and hot tub accessories today.
Read on to learn how to pick the perfect hot tub for you.
Seating Requirements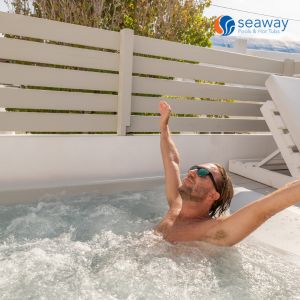 It is necessary to consider how many people you have in your household and the average number of guests you will be hosting regularly. You want to have enough seating for everyone to enjoy the hot tub. At Seaway, we carry hot tubs that fit up to 8 people comfortably and some that just fit 2 people. You can get the best that works for you with a wide variety of options.
Variety of Jets
A significant purpose of our hot tubs is the jets. With the high-pressure water being released into the tub, they also act as massaging mechanisms. However, keep in mind that the more jets you have, the lower pressure they produce. Beachcomber hot tubs at Seaway have both customizable and set jets to choose from. The 700 series have up to 192 jets, whereas the 300 and 500 series have fewer jets.
Functionality
It's important to identify the main functionality of your hot tub. Whether you want to socialize or relax alone, this can determine the different features to add. Beachcombers provide cooling seats in specific models of your hot tub to provide an easier transition between temperatures. These seats are also great for children as they are not fully submerged in the water. If you want to enjoy your hot tub at night, add lights so you are not entirely in the dark. To get more out of your hot tub in Toronto, you can also consider exploring aromatherapy options and other supplementary hot tub accessories and supplies online in our store that will amp up your relaxation.
Location of Your Hot Tub
Planning where you want to put your hot tub is crucial, as there are different options for inground and above-ground hot tubs. A hot tub connected to your pool is a great feature to have if you have little ones to keep an eye on. It also adds tremendous value to your home when ready to sell. On the contrary, an in-ground hot tub is an excellent option if you don't have enough space for a pool. If you want your money's worth, purchase an above-ground hot tub, so when it's time to move houses, you can bring it with you!
Hot Tubs From Seaway Pools & Hot Tubs
Hot tub shopping can get stressful, with all the options and factors to consider, but Seaway Pools & Hot Tubs makes it easy with our team of customer-focused professionals and hot tub sales available at our showrooms in Newmarket and Markham. Not only that, we can offer guidance after you purchase your hot tub as well. If you feel something is wrong with the water in your tub, bring a sample to one of our locations, and we will do a free water analysis.
With all the benefits that come with hot tubs, why hesitate? Shop Seaway for all things pools and hot tubs.