Can My Backyard Fit a Hot Tub
When it comes to home hot tubs in Toronto, the easiest location for a new tub is in the backyard. Most pool and spa stores recommend placing a hot tub outdoors for easy access and improved heat and water ventilation. With outdoor Beachcomber hot tubs, homeowners in Toronto can make the most of their outdoor living space all year round. However, there are some factors to consider when purchasing a new hot tub for your backyard. Here, we have outlined some of the most important considerations when it comes to backyard hot tubs in Toronto.
View from the Hot Tub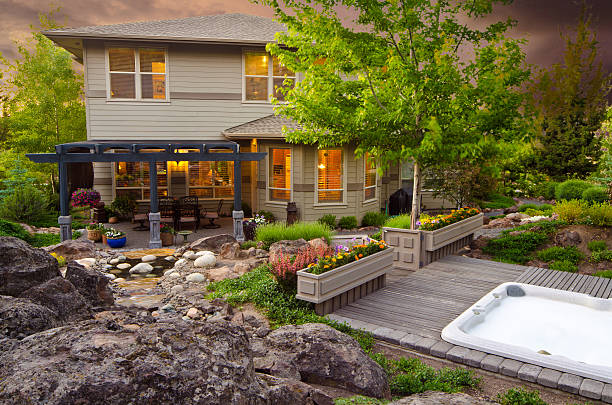 For hot tubs in Toronto, it's essential to consider where you will place the tub in your backyard. You will likely be spending lots of time relaxing and unwinding in your new hot tub and will want to make the most of the view from your spa. Perhaps you will enjoy the hot tub to face the pool so you can keep an eye on your kids while they swim? Maybe you will want the hot tub to face the garden or any accessible nature surrounding your house? When considering where you will install your hot tub, keep in mind what you will want to look at during your hot tub sessions.
Accessing the Hot Tub for Service and Repairs
Some homeowners choose to install their hot tub custom built into a deck or end up surrounding their tub with custom landscaping. Although this might seem like a great idea, it is essential to keep in mind that your hot tub may need to be accessed for future services and repairs. You could either build an access panel into your deck or landscaping or ensure that the hot tub is installed in a way that is accessible for maintenance specialists. You will save yourself a lot of future hassles by making sure you install your hot tub in an accessible location in your backyard.
Size and Model of Hot Tub
Beachcomber hot tubs come in a variety of sizes and models that can seat anywhere from 2-12 individuals. When deciding where to place your hot tub in your backyard, you will want to consider the new hot tub size relative to the size of your backyard. Make sure that you measure your space and leave plenty of room for any stairs, accessories, or other additions you may want to add around your hot tub in the future.
At Seaway Pools & Hot Tubs, we sell a wide variety of Beachcomber hot tubs to families in the Greater Toronto Area. Hot tubs in Toronto are particularly popular for homeowners trying to make the most of their limited outdoor living space all year long. Whether it's winter or summer, you can relax and unwind in your new backyard hot tub. Beachcomber hot tubs are award-winning for their top-quality construction, eco-friendly Hybrid system, and customizable jet matrix for premium hydromassages. Contact the Seaway team today at 905-294-8030 (Markham) or 905-853-8500 (Newmarket) to learn more about Beachcomber hot tubs and get started purchasing your new hot tub.