How to Build the Perfect Summer Oasis with a Backyard Swimming Pool
As swimming pool season slowly approaches, it's a good time to give investing in your own backyard swimming pool more thought. A swimming pool can do more than give you a good place to swim and refresh during scorching Ontario summers. When you customize your backyard with the leading pool builders at Seaway Pools & Hot Tubs, your backyard pool will be a relaxing oasis that brings your outdoor space to life. With the help of our award-winning pool builders and high-quality materials, you can approach your 2023 pool opening in style. This summer, visit Seaway Pools & Hot Tubs to create the perfect backyard oasis with your custom swimming pool in Toronto and Southern Ontario.
Here's how to begin the process of building your swimming pool and how to streamline your pool opening.
Find Inspiration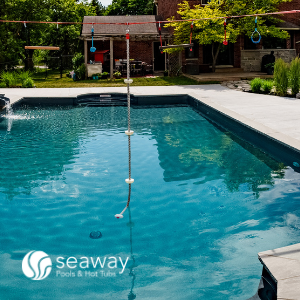 The first step in designing your swimming pool is to find inspiration. You have to decide what kind of pool you want in your backyard. For instance, you may want it to be party central, a playground for children, or a relaxing, luxurious environment for just you and a few others. Once you decide on what kind of pool you'd like, designing and building it will be easy.
Pick a Size
At Seaway Pools & Hot Tubs, you can choose between plunge pools or full-size pools. Plunge
pools are excellent for backyards that aren't huge, and you still want to optimize space; they're smaller than a regular pool but still bigger than a hot tub. Seaway Pools & Hot Tubs are Ontario's original plunge pool builder, and will guarantee that your plunge pool will be the star of your backyard. However, if you have the space to go for a full-size pool, we have many options for you, ranging from full-size inground pools, to semi-above ground, and above-ground pools. Whichever you decide, our pool builders will help you every step of the way.
Pick a Shape
If your backyard is a unique shape, or if you just want your swimming pool to be different from the others, our pool builders at Seaway Pools & Hot Tubs will accommodate that. You can choose from many shapes, such as round, square, oval, rectangle, or completely custom.
Decide on a Theme
To fit the aesthetic and theme of your backyard, your swimming pool will have to match. If you want a modern swimming pool, a bright plunge pool, or a grandiose pool filled with features and customizations, look no further than the team at Seaway Pools & Hot Tubs. We'll help you customize your swimming pool with liners, water features, lights, or even built-in hot tubs, so you're able to create the perfect swimming pool for you.
Choose Customizations
Customizing your pool is one of the best parts of designing your swimming pool. There are many ways to make your swimming pool special and unique. Some customizations we offer at Seaway Pools & Hot Tubs include pool lighting, saltwater options, waterfalls, a rain curtain, or even a tanning bench.
Talk to Trusted Pool Builders in the Greater Toronto Area
Once you've decided what your swimming pool will look like, it's essential that you choose a service provider that will help you design and build it. Not only will Seaway Pools & Hot Tubs help you create and build your pool, but we'll also help you maintain it on a weekly or bi-weekly basis.
To ensure you have the pool of your dreams this year, contact Seaway Pools & Hot Tubs.