3 Benefits of Resin Above Ground Swimming Pool
When talking to your pool installers about which pool is best for your yard, the consensus is that above ground swimming pools are an affordable and fun way to cool off in the summer, that's quick to install, especially mid-season. Compared to inground swimming pools, above ground swimming pools require less maintenance, are easier to install and can fit into smaller backyards. If you're interested in a pool this summer but cannot make your mind up between above ground resin pools or other types, this is the guide for you.
Read on to learn about the benefits of resin above ground pools from your trusted swimming pool installers at Seaway Pools & Hot Tubs.
What are Resin Above Ground Pools?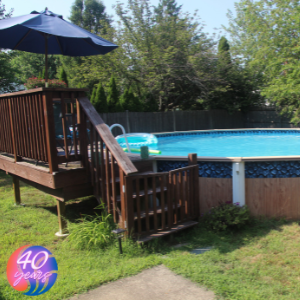 Resin swimming pools are made of hard, strong plastic that are fully customizable, easily installed, and require less maintenance than other types of above ground pools and inground swimming pools. To find an above ground pool that'll fit your backyard aesthetic, look no further than resin swimming pools from Seaway Pools & Hot Tubs. At Seaway Pools & Hot Tubs, our team of experts and pool installers will teach you everything you need to know about resin above ground swimming pools and how they're an excellent addition to your backyard.
Benefit #1: Rust and Corrosion
Resin above ground pools are a luxurious alternative to other types, like steel and aluminum. Above ground steel swimming pools are the heaviest type of pool and, after a while, fall victim to rust. Aluminum, like steel, will also become oxidized, resulting in rust and corrosion. When aluminum oxidizes, your pool surfaces will become rough and may even cause holes in the liner. Because resin is a hard plastic, these pools resist oxidation, rust, and corrosion. Although these pools may have a higher price tag than steel or aluminum, it's worth it.
Benefit #2: Durability
Resin swimming pools are the toughest above ground pools you can find. Due to the rust resistance of resin, these swimming pools will have a long lifespan and are a worthwhile investment. In addition, resin is naturally strong and durable, so your resin swimming pool will withstand minor damages, like dents and scratches. If you choose to invest in an above ground resin swimming pool, you can expect it to last around a decade.
Benefit #3: Weather Resistance
Resin above ground pools are excellent for those hot Toronto summers and cold winters. Throughout the summer, even in thirty-degree heat, resin swimming pools will remain cool to touch, unlike other types of above ground swimming pools. Resin doesn't hold much heat, so you won't need to worry about you or your family getting burned while getting into your pool. The durable material of these pools will withstand sun damage and resist warping from extreme temperature fluctuations. Additionally, with UV protection, the colour of your resin pool won't fade over time and will keep looking vibrant for years to come.
Why Choose Seaway Pools & Hot Tubs
At Seaway Pools & Hot Tubs, our resin above ground swimming pools are an excellent choice, especially if you're interested in having a saltwater pool. We offer various shapes and sizes, so you're able to customize your brand new pool to suit your every need.
To get the perfect resin above ground swimming pool, contact Seaway Pools & Hot Tubs.