Benefits of a Tanning Bench in Your Pool
Swimming pools in Toronto come with all sorts of features, but one of the most popular customizations swimming pool builders are getting requests for are tanning ledges. A tanning ledge serves as an extension for your pool that's excellent for eating, reading, working, and of course, tanning. Many pool companies in Toronto view tanning ledges as a practical yet aesthetically pleasing feature that makes your swimming pool the centerpiece of your backyard.
Continue reading to learn more about the benefits of a tanning ledge in your pool.
What is a Tanning Ledge?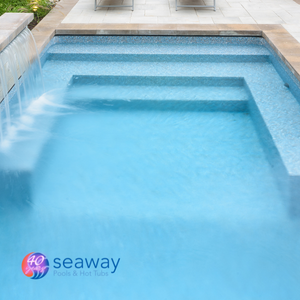 A tanning ledge is a unique pool feature that creates an upper-level oasis in your pool. As the name implies, it's a ledge, typically near the entry point of your pool, covered by a few inches of water, making it a prime spot for cooling off and relaxing in the hot sun. When incorporating a tanning ledge into the design of your swimming pool, your swimming pool builders can tailor the size to suit your property and style, making it as big or small as you'd like. You can even accessorize your tanning ledge with lounge chairs, floats, tables, just keep it bare.
Why Ask Swimming Pool Builders for Tanning Ledge?
Tanning ledges create a multi-purpose space in your swimming pool and make it more versatile. You're able to have a few light bites, some drinks, read, or even play games on your tanning bench without worrying too much about your belongings getting soaked in the deep end of the pool. When you're designing your new swimming pool, ask your swimming pool builders from Seaway Pools & Hot Tubs about how to add a tanning ledge to your pool.
Benefits of Adding a Tanning Ledge to Your Swimming Pool
Tanning ledges are an excellent way to entertain guests in your backyard swimming pool. Everyone can seamlessly gather around your pool and outdoor living space together, and no one is separated. With a tanning ledge, parties or small gatherings will feel more inclusive and intimate.
Many pool companies in Toronto understand the need to have a kid-friendly backyard, and maintaining a safe swimming pool is no different. By adding a tanning ledge to your swimming pool, children are able to safely play and wade in the water. Tanning ledges are shallow, with an average depth of six to twelve inches, so toddlers and children can safely cool off in the water.
Aside from the safety and entertainment aspects of a tanning ledge, they're also beautiful. A tanning ledge adds a serene and relaxing element to your pool. Pair your ledge with chaise loungers, and your swimming pool has a brand new sense of luxury.
How to Add a Tanning Ledge
Tanning ledges work in any type of pool, so if you're interested in making your swimming pool even more lavish than it already is, bring the idea up early to your swimming pool designer and builder. This way, you're able to ensure that the measurements are exact and that your swimming pool can be designed and completed efficiently.
At Seaway Pools & Hot Tubs, our swimming pool builders will work with you to ensure your swimming pool and tanning ledge are precisely what you've envisioned.