Benefits of a Hybrid Hot Tub
No matter how warm it gets in the summer, nothing beats a nice relaxing soak in a hot tub on a cool, quiet evening. Hot tubs provide a comfortable oasis to unwind from the day's stress. However, they sometimes get a bit noisy or expensive to run. Luckily for you, a new alternative is more energy efficient and quiet. Hybrid hot tubs are now all the rage — and for good reason. To learn more about hybrid hot tubs, visit Seaway Pools & Hot Tubs' hot tub sale. We're a leading supplier of hot tubs and hot tub accessories in Toronto and hot tub supplies so you'll have everything you need for a relaxing dip in your hot tub.
Keep reading to learn more about hybrid hot tubs and their benefits.
Benefit #1: Energy Efficient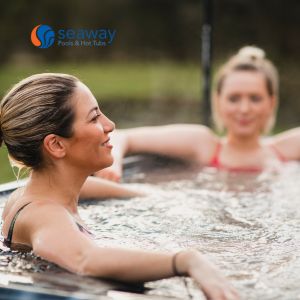 The energy efficiency of a hybrid hot tub is what makes it stand out from the rest. Hybrid hot tubs are 33% more energy efficient than standard hot tubs. These hot tubs follow strict energy efficiency guidelines to ensure that your utility bills decrease while the comfort and quality of your hot tub stay the same. Hybrid hot tubs aim to move water efficiently and rely on hydrodynamic water flow to help reduce power use while keeping water fresh and clean. In addition, hybrid hot tubs have excellent insulation and heat retention. With spray foam insulation filling every nook and crevice under the hot tub, the water in your hot tub will stay hotter for long periods.
Benefit #2: Quiet Operation
Traditional hot tubs generally come with two-speed pumps that are noisy and hard to ignore. However, hybrid hot tubs are so quiet that you won't even know the pump is running. So, not only will the filter and pump keep your water clean around the clock, but it'll be as quiet as a mouse. The next time you unwind in your hybrid hot tub, the only noise you'll hear is the sound of nature around you or the quiet music playing in the background. If you need peace and quiet in order to fully relax, visit Seaway Pools & Hot Tubs to learn more about hybrid hot tubs in Toronto. With our exciting hot tub sale, you'll be able to take your pick from a wide range of hot tubs.
Benefit #3: Weather Resistant
Hybrid hot tubs are equipped to succeed and perform well in any climate — even harsh and snowy winters. Hybrid hot tubs are UV-protected, so even during a heat wave this summer, the hot sun won't cause any discoloration, warping, or fading over time. Also, the safe, non-slip surface makes it easy for you to get into your hot tub even when it rains. Premium safety grips allow everyone to easily access the hot tub.
Shop Hot Tubs Online & In-Store
Hot tubs are a perfect backyard addition, and Seaway Pools & Hot Tubs is Southern Ontario's go-to hot tub store. From luxury Beachcomber hot tubs to plug and play tubs, you can shop a vast selection of models for your home from our trusted team. Explore your options online or visit us in one of our two GTA showroom locations.