A Guide to Summertime Poolscaping
Are you looking for a way to elevate the aesthetics of your backyard? Poolscaping is a perfect solution and with leading pool installation companies like Seaway Pools & Hot Tubs, you can go beyond a swimming pool, transforming your backyard into an oasis. Our award-winning pool contractors highly suggest poolscaping as it can enforce privacy and safety while still adding dimension and design to your outdoor living space. If you are still considering getting a pool, consult Seaway Pools & Hot Tubs for expert advice and pool installation services. We have over 40 years of experience in bringing pools to homeowners and maintaining the pools as well. Call us for more information, or opt to come by one of our showrooms in Newmarket or Markham.
To learn more about poolscaping, read on.
Pool Furniture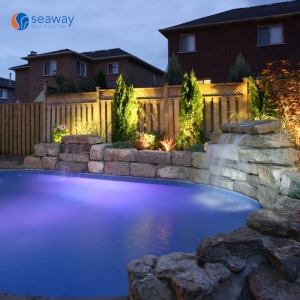 Add a nice seating area to enjoy time outside without going in the water. It's a great place to relax or hang out with friends and family. An outdoor sectional and a firepit are the ideal hangout spot during the summer nights. Pool furniture can be convenient by providing a space to leave towels, drinks and snacks near the pool without getting wet. Furniture is a great way to add colour to your backyard with different cushion colours or patterns. Customize it to make it a place you will love.
Adding a Touch of Green
Adding grass areas can add dimension to your backyard. Whether it's artificial grass or natural, it enhances the versatility of your backyard by providing a space to lay in the sun or to play with the kids and pets. Some people also opt for a garden bed; however, pool contractors typically suggest getting plants and greenery that don't shed as that can create a mess that is a hassle to clean, especially out of the pool.
Light Up Your Backyard
If you are seeking night swims or late nights around the fire pit, look into lighting around your backyard so it's not limited to only the daytime. At Seaway Pools & Hot Tubs, we stock lights that can be installed into the pool, but still explore lights like garden, porch, and string lights for around your seating area.
Pathways
Not only do pathways promote safety, but it also keeps your grass looking fresh and plushy. It also creates a seamless transition from your home to your backyard, as you can make it complement the design of your backyard. Pathways are entirely customizable, whether you want separate slabs or a connected path. These design choices have no timeline; therefore, you have the freedom to decide after the pool installation.
Storage to Maintain Cleanliness
The main priority of poolscaping is the aesthetics of the backyard. A storage area like a shed can help keep a clean pool area and reinforce safety. This eliminates the chances of tripping on pool supplies and accessories and losing them as well.
Personalize Your Pool with Seaway Pools & Hot Tubs
Our Seaway Pools & Hot Tubs staff will provide expert advice to ensure you create your dream backyard. Once your pool is all set up, don't hesitate to contact us if you require maintenance or cleaning. We also have a wide spread of pool supplies and accessories you can shop on our website. Contact us today with any questions or concerns about pools and hot tubs.