6 Must-Have Swimming Pool Supplies for Your Wishlist
Sometimes filling up your holiday wishlist is a difficult task. But if you're the type of person or family that spends the summer in the backyard, lounging in the patio or taking a dip in the swimming pool, then you have more options than you think. Stock up on swimming pool supplies and accessories this holiday season. Whether you're shopping for yourself or friends and family, you can skip the malls and shop your favourite pool companies in Toronto online. Our online store at Seaway Pools & Hot Tubs is equipped with all necessary swimming pool supplies and fun swimming pool accessories that will take this summer to the next level.
Here are some backyard swimming pool accessories you can ask Santa for this year.
Robotic Cleaners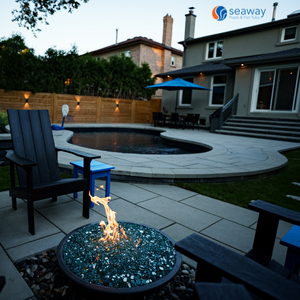 Robotic pool cleaners are more exciting than typical swimming pool supplies. They automate swimming pool cleaning and take one chore off your hands. Functioning similar to trendy robotic vacuum cleaners, robotic swimming pool cleaners are programmed to intuitively traverse the walls and floor of backyard swimming pools to eliminate algae, dirt, cosmetic debris, and organic waste without any additional effort. At Seaway Pools & Hot Tubs, you can shop our selection of robotic pool cleaners and all our other swimming pool supplies online.
Patio Furniture
Besides swimming pool supplies, you can give the backyard lover in your life patio furniture. Not many pool companies in Toronto offer a full selection of patio furniture to adorn your backyard swimming pool, but Seaway Pools & Hot Tubs does. You can visit us in-store or shop online to find the perfect furnishings to gift this season.
Fire Pits
While swimming pools in Toronto are usually considered the star of any backyard, fire pits are a great secondary feature. A firepit extends the functionality of the backyard patio and swimming pool beyond the summer's hottest days while also transforming the look and feel of any backyard setup. Inherently a gathering place, fire features are a fitting gift for Torontonians who love entertaining or spending quality time with families.
Swimming Pool Hammocks
The best benefit of a swimming pool in Toronto is the ability to get in the water and use it. Keep your pool lovers looking ahead to summer with different swimming pool accessories. One of our favourite swimming pool accessories at Seaway Pools & Hot Tubs is the adjustable swimming pool bean bag hammock that can be taken in and out of the pool for any level of lounging. For someone who loves sunbathing poolside or drifting peacefully throughout their swimming pool, this versatile pool accessory is fit for the versatile pool lover.
Chemicals
While pool sanitizers are not the most glamorous holiday gift, many pool companies in Toronto and North America, on the whole, have experienced some level of shortages in the past two years. So if you have a business-minded and organized pool owner in your life, then help them build their sanitizer inventory for the 2022 swimming pool season in Toronto.
Hot Tubs
What goes better with a backyard swimming pool than hot tubs in Toronto? Give the gift of relaxation and straightforward lounging with a luxury hot tub that can be custom fit in any property and used all year long.
Visit us in Markham or Newmarket or browse our online pool supply store to shop more swimming pool-themed gift options this holiday season.