5 Ways To Enhance Your Plunge Pool Experience
Plunge pools are innovative backyard additions that are gaining popularity in Toronto year after year. Their simple design is eye-catching and tempting to visitors and homeowners alike. While it may be a small swimming pool, the benefits are enormous. One of the main reasons homeowners in Toronto love these small swimming pools is that they fit in any size backyard where they can be used for anything from rest and relaxation or entertaining friends, family, and guests. Additionally, plunge pools are great for cooling off in the city's hot summer heatwaves, relieving stress or anxiety, and rehabbing joint or muscle pain.
If you want to get more from your plunge pool, here are 5 ways you can customize it for an unbeatable experience.
Jets Transform Plunge Pools into A Spa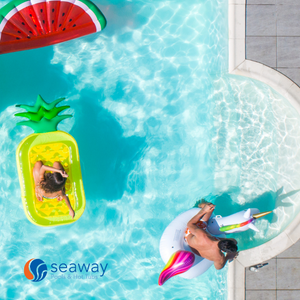 When you add jets to your small swimming pool, you enhance your backyard oasis by transforming it into a spa-like experience. This addition enables your swimming pool to offer better physical health benefits. With jets, these backyard pools are better equipped to soothe muscle and joint pain, improving sleep, reducing stress, and controlling anxiety.
Retaining Walls Are More Than Just An Aesthetic
A retaining wall can turn an inground pool into a dynamic semi-inground pool. The addition of a retaining wall to your plunge pool opens up a world of possibilities. The towering wall makes the perfect canvas for swimming pool accessories like LED lights, waterfalls, in-pool basketball nets and more. You can even hang a screen and project videos for im-pool movie nights like no other. At Seaway Pools & Hot Tubs, we offer various in-pool accessories and decor that you can use to enhance your pool and retaining wall.
Stray From the Traditional Rectangle Pool
No matter the size of a backyard swimming pool, it's typically rectangular, but it doesn't have to me. If you're looking to install a small swimming pool in your backyard, you can get creative working with your pool contractors and builders to design a pool that fits optimally in your backyard and is adorned by the surrounding landscaping.
In-Pool Accessories Add to the Fun
The term "plunge pool" may insinuate that you should just jump in. While that would be refreshing on a hot summer day, it doesn't have to be all you do with your swimming pool. Floats and in-pool games amplify the fun you have in your pool by extending the possibilities for you, your family, and your guests. Consider in-pool hammocks, drink floats, and games to maximize the functionality of your swimming pool.
Poolside or Swim Up Bar For Easy Drink Access
When you install a swimming pool from Seaway Pools & Hot Tubs, our goal is to transform your backyard into your dream vacation. You can enhance your at-home vacation experience by installing a bar adjacent to your plunge pool. The convenience of a bar by your pool is unbeatable. You can store water, alcohol, and drink for the kids within a few feet of your pool. And you're entertaining guests. It allows easy access, so hosts don't have to leave their guests.
Are you ready to love your backyard more than ever?
Contact Seaway Pools & Hot Tubs today to start customizing your plunge pool.