5 Innovative Poolscaping Tips
Swimming pool installation and backyard landscaping in Toronto go hand in hand. Poolscaping, the landscape design and features around your pool, is an integral part of creating a luxurious backyard oasis. When undergoing your swimming pool installation, think about different poolscape designs and features to incorporate. By integrating these features at the time of design and installation, your pool and backyard design will be cohesive and ready for relaxation.
Here are five innovative poolscape tips to include during your swimming pool installation.
Lighting and Fire Features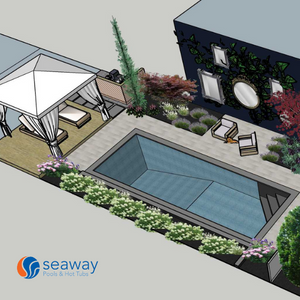 Adding lighting to your poolscape is a fantastic idea, especially if you like to indulge in evening swims. The options for pool lighting are endless; you could have LED lighting in the pool, different colours, or different styles. Another option is to add lighting features, such as fairy lights or lanterns, around your pool or yard to make it cozy; this will bring the design of your poolscape together.
Outdoor fireplaces are also an excellent way to integrate more light into your poolscape. When you're undergoing your swimming pool installation, ask the designers and builders for an outdoor fire feature — they're an essential part of any backyard landscaping in Toronto, especially during chilly evenings. An outdoor fireplace is relaxing, luxurious, and a great way to warm up after an evening swim. Our outdoor fire features at Seaway Pools & Hot Tubs are high quality, lightweight, and will withstand any climate — even Toronto winters.
Semi-Inground Pools & Retaining Walls
When you're brainstorming the design of your pool and backyard landscaping in Toronto, consider a semi-inground pool. Semi-inground pools are great for those with smaller backyards that still want to relax and cool off in a pool. From round, oval, to a rectangular style, all semi-inground swimming pools from Seaway Pools & Hot tubs are fitted with the highest quality red pine in several different stains and finishes.
Retaining walls create an exclusive and luxurious space in your poolscape. Not only do they protect your pool from any potential erosion that may occur, and they're also a great way to integrate features, like a waterfall or bench.
Waterfall Features
Waterfalls add drama and grandeur to your pool, and the sound of trickling water is equally relaxing. Water features can be as elaborate as you like, like eight-foot-tall rain curtains, or simple, like a raindrop waterfall. Regardless of the type of waterfall feature you choose, it will elevate your pool and make it eye-catching and the centre of attention.
Privacy Trellises, Patios, Cabanas
We have plenty of options for backyard furnishings and outdoor structures here at Seaway Pools & Hot Tubs. If you choose to incorporate privacy trellises, patios, or cabanas in your poolscape, you'll need to have high-quality and comfortable outdoor furniture. We offer a wide range of patio sets, coffee tables, conversation sets, and chaise lounges to ensure your backyard is relaxing and complements your poolscape design.
Hot Tubs for Colder Nights
A hot tub is a perfect addition to complete your backyard design. While your swimming pool is ideal for cooling off during the day, a hot tub is the best way to warm up at night, relax, and get ready for a restful sleep. Our hot tubs at Seaway Pools & Hot Tubs are custom designed and fitted for any backyard and can be used all year long.
Learn all the ways you can customize your backyard landscaping!