3 Space-Saving Backyard Tips That Will Make a Big Splash
If you have a small backyard, you may be thinking of ways to optimize space and make it a luxurious and serene oasis. At Seaway Pools & Hot Tubs, we have many options for you: from plunge pools, beachcomber hot tubs to elegant storage solutions. Pool companies in Toronto are here to help you get the most out of your small backyard and transform it into your year-round dream vacation destination.
Keep reading to learn more about how you can get creative with some space-saving ideas.
Plunge Pools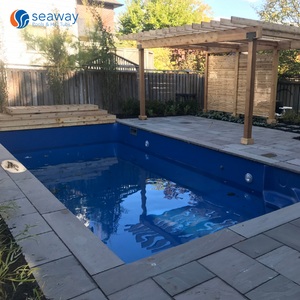 Building a custom plunge pool in your backyard immediately turns it into a relaxing and lavish environment. Plunge pools are the perfect solution to optimizing space in your backyard and adding a beautiful water feature, perfect for a quick dip and cooling off. At Seaway Pools & Hot Tubs, we offer you endless choices for your plunge pool to suit your vision— from the length, width, and overall aesthetic of it, it's all up to you.
If you have a smaller pool in your yard, you have space for other outdoor living items in your home, like fire features, conversation sets, dining areas, or even a cabana. Plunge pools give you the opportunity for your backyard to have it all.
Hot Tubs
Hot tubs are excellent additions to your backyard and immediately add in a ''wow'' factor. Most pool companies in Toronto offer many types of hot tubs, ranging from two seats all the way to twelve, depending on your preference. At Seaway Pools & Hot Tubs, we offer beachcomber hot tubs of all sizes as well as inground hot tubs for that extra luxury. Not only are hot tubs comfortable and relaxing, but they also have great health benefits, such as enhancing sleep, muscle relief, and massaging properties that help with arthritis and muscle tension.
Additionally, we offer a wide variety of storage solutions that help optimize space in your backyard. When you get your hot tub storage solutions, make sure it fits easily behind your hot tub to keep all your supplies and cleaning agents organized and away from the elements. Cleaning agents and chemicals need to be kept in a cool and dry place, so sleek and stylish storage is the best decision.
Outdoor Living
If you're interested in outdoor living, we have plenty of choices for you to get the most out of your backyard space at Seaway Pools & Hot Tubs. If you want to extend those warm summer evenings into fall and winter, try a fire feature. Instead of opting for a wide or square style fire feature, try long and narrow ones. Not only are long fire features sleek and modern, but they're also excellent for optimizing space. If you don't have room for a fire feature, but you still want to stay cozy and warm, try out a standing gas heater. Outdoor patio heaters are aesthetically pleasing and effective heaters that save space and leave room in your yard for dining or conversation sets.
To see other space-saving backyard solutions we have to offer, visit our online store to see what other ways you can save space in your backyard.
Ready to get started on your dream backyard?