3 Plunge Pool Accessories You Need This Summer
As the temperature is getting warmer and the sun is staying out longer, it's no surprise that you want to cool off in a pool after a long day. Plunge pools are a great option whether you're looking for low maintenance or year-round use. Although they are smaller in size, they offer the same amount of fun for an affordable price. If you're looking to get the most out of a smaller backyard swimming pool in Toronto, you can take the functionality up a notch with our range of swimming pool accessories from our pool supply store.
There are many benefits to installing a custom plunge pool in Toronto. Not only is it more cost-effective and faster to install than traditional pools, but it requires less maintenance, enabling a stress-free experience. They work great for a small backyard or patio and can be tailored to your specific desires. Not to mention, customization for lighting, jets, sizing and more is available. We also offer all sorts of pool accessories that can amplify the look and usage of your pool.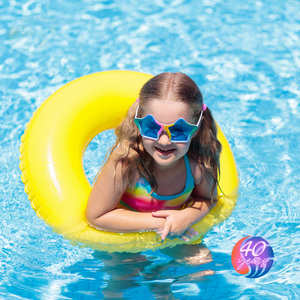 Seaway Pools & Hot Tubs is your one-stop pool supply store in Toronto. You can visit one of our two GTA showrooms or shop conveniently online. We offer a wide selection of pool accessories such as floaties, toys, and anything else you may need to keep your backyard looking fantastic. Sizes range from 7 feet to 20 feet with a shallower depth, making it child and family-friendly.
Below are 3 must-have accessories for your plunge pool this summer!
Swimming Pool Floaties
Drifting through your backyard swimming pool with a drink in hand is one of the most relaxing ways to spend a hot summer day in Toronto. At Seaway Pools & Hot Tubs, we stock a wide variety of unique floaties bound to add some character and functionality to your plunge pool. View our eclectic selection, ranging from unicorn and watermelon floaties to retro cassette tapes and more.
Toys & Games
If you're not in the mood for kicking your feet up but want to go swimming, try in-pool swimming games. Even though plunge pools in Toronto are smaller than the traditional swimming pool, there is still enough space to move around. Not all pool supply stores in Toronto will be stocked with many toys and games, but at Seaway Pools & Hot Tubs, we've got you covered, whether you're playing poolside or jumping right in. You can try pool pong, water launchers, and more.
Lighting & Speakers
Due to their beautiful designs, small backyard pools in Toronto are an excellent addition for households that love to entertain. Customizing your plunge pool with LED lights, speakers, and coolers enhances the look of your swimming pool, transforming your backyard into the perfect party venue. If you're looking for some downtime, you can still enjoy colour-changing lights and your favourite playlist.
Why Choose Seaway Pools & Hot Tubs?
Our professionals at Seaway Pools & Hot Tubs have over 40 years of experience specializing in pool and hot tub construction. We provide quality, aesthetically pleasing work for a good price to ensure that you love your new and improved backyard.
Visit one of our showrooms today or shop swimming pool accessories online.